Tweet Widget
Facebook Like
Google Plus One
Our Verdict
Toyota gets mildly adventurous with its second-generation Aygo city car - but does it do enough to hold off advances from the Volkswagen Up, Hyundai i10 and Kia Picanto?
First Drive Toyota Aygo 2018 review

Stylish design tweaks and improved infotainment for Toyota's striking city car, but it faces stiff competition from the Volkswagen Up

First Drive 2016 Toyota Aygo X-clusiv review

The Toyota Aygo X-clusiv is the Japanese car maker's quirky-looking city car in its range-topping trim. Does the extra kit justify the price hike?
What is it?
The second-generation Toyota Aygo has proved to be a successful model for the Japanese manufacturer since it was introduced in 2014. In 2017 alone, no less than 22,264 examples of the distinctively styled Aygo rolled out of UK dealer showrooms. Not only did this account for 12% of the competitive city car market, it made the Aygo the third most popular car in its class.
For 2018, Toyota has treated the Aygo to a mid-cycle refresh in a bid to keep it competitive against the likes of the Volkswagen Up and Skoda Citigo, as well as the Peugeot 108 and Citroën C1 with which it shares its platform. As is often the case with midlife facelifts, the latest Aygo is fairly similar to its predecessor, yet the changes made distinctive enough to help it stand out next to the older model.
From a visual standpoint, the most noticeable tweak can be seen at the front of the car, where the black two-dimensional 'X' motif has been turned into a three-dimensional, architectural feature of the car's nose. There are new light signatures front and rear, and a range of new 15in alloy wheels have been rolled out across the range.
The line-up has also been tweaked, with X specification representing the entry-level offering, followed by X-Play, X-Plore, X-Cite and X-Clusiv. A limited-run X-Press trim is also available, of which 2500 examples will be built. Prices start at £9,695 and rise to £14,595.
Toyota's 1.0-litre three-cylinder petrol engine remains, although with a number of tweaks to marginally improve performance and efficiency and reduce friction. It now develops a modest 71bhp at 6000rpm — up from 68bhp in the previous model — while outright torque has decreased to 68lb ft from a fairly heady 4400rpm, although there's more of it in the mid-range.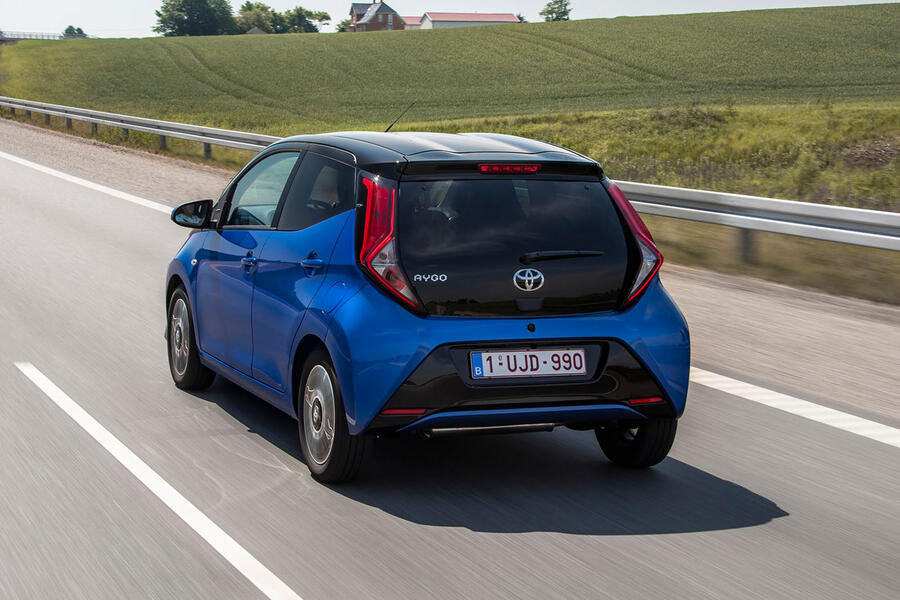 What's it like?
Despite changes to the Aygo's powerplant, including a new dual fuel injector system for the cylinder head, a larger exhaust port and a revised combustion chamber shape, the little Aygo feels just as short on performance as it always has.
Its miniscule torque reserves aren't exactly what you'd call accessible, requiring a great deal of revs in order to achieve forward motion. Once you've started rolling, acceleration is fairly meagre, too, with the sprint — if you can really call it that — from 0-62mph taking a lethargic 13.8sec. The rorty three-cylinder thrum remains; this can be fairly endearing when you're just tooling about town, but when you really bury the throttle and rev it out it becomes coarse and overly vocal.
Out on the motorway, the Aygo's lack of performance becomes increasingly prevalent. Admittedly, this isn't your typical city car comfort zone, but accelerating on to motorway slip roads is a laborious task, while any thoughts of performing in-gear overtaking manoeuvres should be arrested immediately. At speed, the motor makes its presence known, melding in with the abundant tyre roar and wind noise. It's not quite a cacophony, but it"s enough to give the impression that a long-distance drive would soon become tiresome.
Place the Aygo back in its inner-city comfort zone and things become far more promising. The controls are largely light and easy to manage, although the noticeable short travel of the clutch pedal may take some getting used to. The five-speed manual transmission can feel a bit rubbery and imprecise, too. Still, the steering is nicely weighted and direct enough, and although it's not brimming with feel, it allows you to place the Aygo on the road confidently.
The suspension, comprising MacPherson struts at the front and a torsion beam at the rear, does a good job of keeping vertical body travel in check, although the Aygo's fairly tall, slab-sided shape does cause a noticeable amount of body roll through faster bends. The ride is mostly supple, although pockmarked surfaces can be a touch jarring.
With the 2018 update, Toyota has also made an effort to improve the Aygo's standard specification. The most notable addition is a new 7.0in touchscreen infotainment system — standard on X-Play models and above — that includes a DAB radio, Bluetooth connectivity and a rear-view camera. Apple CarPlay, Android Auto and satellite navigation are available, depending on model variant.
We'd advise opting for Android Auto/Apple CarPlay compatibility, since these operating systems are far more user-friendly than the software that features as standard.
Should I buy one?
While the new Aygo certainly has its merits — think stylish design and improved infotainment — it still isn't our go-to city car recommendation. A Volkswagen Up boasts a more pleasant and refined driving experience, as well as more room for adult passengers in the back, while the Skoda Citigo is much the same as the Up but with a noticeably cheaper price tag.
The Up also feels like a far more premium product than the Aygo, despite both featuring a fairly copious amount of harder plastics in their respective interiors.
That said, the Aygo is competitive in terms of emissions at 96g/km, while fuel economy from the 1.0-litre engine is respectable, too, at a quoted 68.9mpg on the combined cycle.
Still, the biggest barrier is price. While an entry-level Aygo will set you back £9,695, a basic Up can be had for £9,325. Our X-Clusiv specification test car with its five-speed manual transmission, meanwhile, costs from £13,895, which is only £360 cheaper than a five-door Up GTI.
And if it were our money on the line, we know which of the two we'd opt for. It'd have to be the Up GTI every time, wouldn't it?
Toyota Aygo 1.0 VVT-i X-Clusiv specification
Where Copenhagen, Denmark Price £13,895 On sale now Engine 3 cyls, 998cc, petrol Power 71bhp at 6000rpm Torque 68lb ft at 4400rpm Gearbox 5-speed manual Kerb weight 840-900kg Top speed 99mph 0-62mph 13.8sec Fuel economy 68.9mpg (combined) CO2 92g/km Rivals Volkswagen Up, Skoda Citigo, Peugeot 108, Citroën C1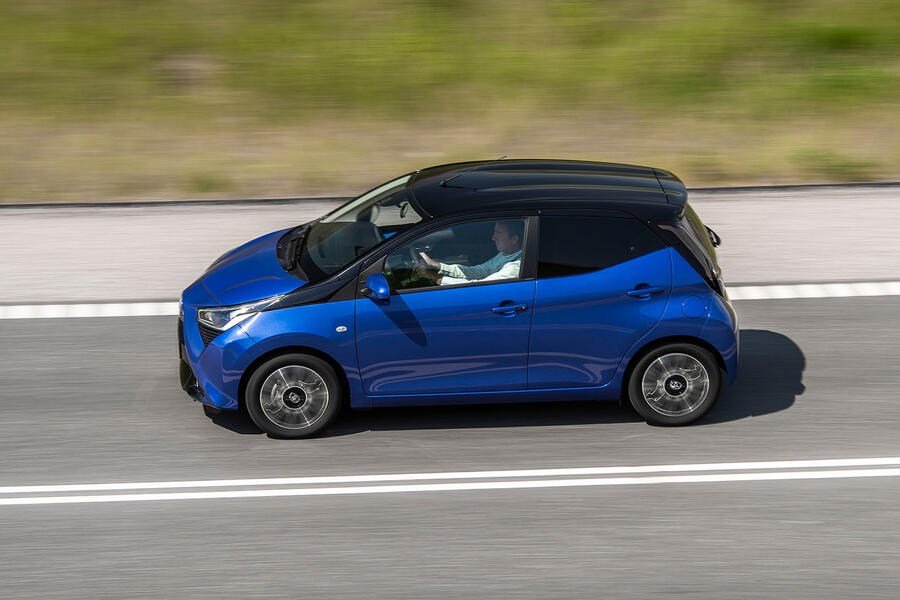 Tweet Widget
Facebook Like
Google Plus One
Nguồn: www.autocar.co.uk