Tweet Widget
Facebook Like
Google Plus One
Our Verdict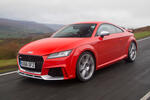 Audi Sport drops a sub-4.0sec-to-60mph bomb into Porsche Cayman territory
First Drive Audi TT RS Coupé long-term review

The Audi TT RS has the looks, a vociferous engine and the supercar-baiting performance, but is it too uncompromising to use as a daily driver?

First Drive 2016 Audi TT RS Roadster review

TT RS Roadster adds roof-down sensory delight to the brutish package of the coupé but still plays second fiddle to Porsche

Why we"re running it: To see if the most hardcore TT is preferable to the cooking versions and a genuine alternative to a BMW M2
Month 1 - Month 2 - Month 3 - Month 4 - Month 5 - Month 6 - Month 7 - Specs​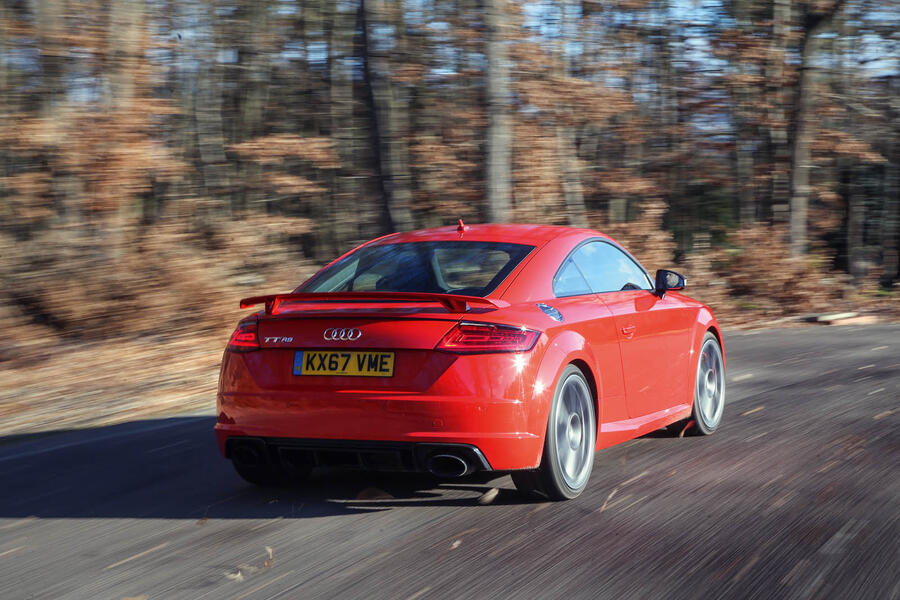 Life with an Audi TT RS: Month 7
Against two key rivals, will the TT RS get a photographer's nod? - 13th June 2018
An Audi TT has passed through a snapper's hands at Autocar before. In fact, Stan Papior ran one not so long ago. It wasn't as expensive or as fast as the RS currently in Nic Cackett's possession, but it was just as red and had much the same make-life-easy DSG gearbox.
He rather liked it. Which seemed counter-intuitive to me, given that he has to heave roughly the same amount of photographic kit as I do on a daily basis. On the list of cars – even coupés - that would suit a jobbing photographer, the TT struck me as being no more up to the task than a Porsche Cayman.
But – wouldn't you know it? – necessity having put me in the car for a couple of days, it turns out the boot is almost custom-made to swallow everything you'd need to shoot a three-car group test.
Perhaps I shouldn't have been so surprised. After all, the bulkiest items I carry are consigned to two medium-sized suitcases – precisely the sort of two-person load you might want a practical coupé to accommodate.
But it was the way it managed all the peripheral stuff, too: boots, tripod bag, extra clothing, additional rucksack, cleaning gear – it all went into the shallow boot space as though the designer had planned it that way.
Moreover, the TT's boot floor is at that almost ideal height: tall enough so you don't have to bend down to get to it, but not quite so tall that you find yourself leaning over stuff to reach things at the back. The big hatchback-style lid helps, too.
The car's usability fest was drawn into sharper focus by the other sports cars assembled that day.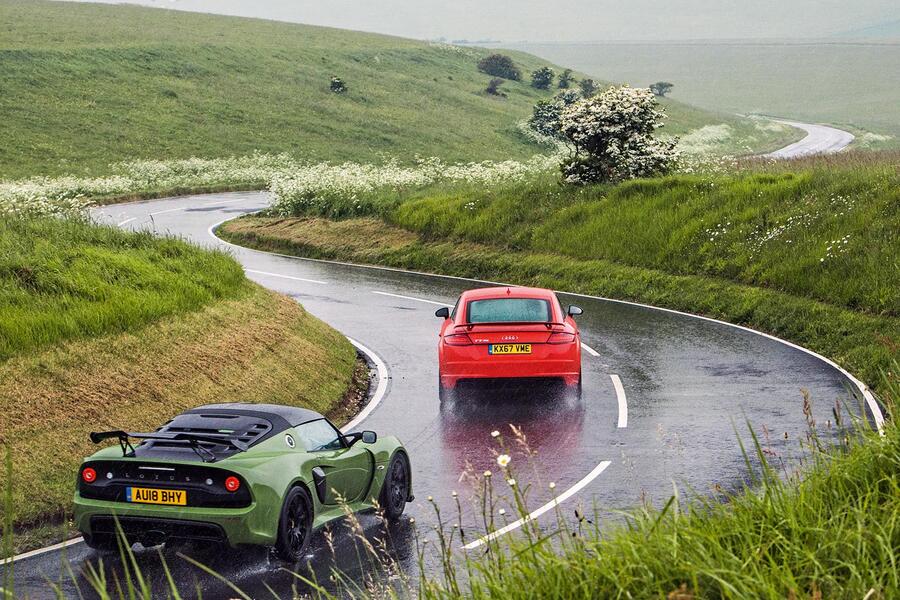 The aforementioned Cayman, present in GTS format, is not a lost cause because the well at the front always accepts more stuff than you think it's going to – and the current-generation car has a modest load space to the rear as well. But you're always forced to split a big load and almost always left with something to put on the passenger's seat.
And the other car was a Lotus Exige, which is to boot space what the Mir space station is to B&Bs. Of course, in the subsequent test, the TT lost out to both rivals on the basis of its handling, which is not at the same sparkling level of pleasure giving as its rear-driven rivals.
Did I feel a pang of jealousy, though, as my colleagues hustled their way home in the competition? Nope. The Porsche has two fewer cylinders than it ought to (and, even in GTS format, is no match for the electrifying whine of Audi's in-line five) and the Exige is a Lotus, which means it's about as relaxing to drive up a motorway as a porcupine.
No, I quietly packed my gear into the TT RS's satisfyingly large boot, settled into its very comfortable leather driver's seat, programmed its first-rate sat-nav and eased away from a standstill with what is arguably the world's best 'affordable' combination of engine and gearbox.
If all that adds up to last place in the current sports car stakes, then consider me a tickled-pink loser.
Luc Lacey
Mileage: 9463
Back to the top
Life with an Audi TT RS: Month 6
A few foibles as we near the end - 30th May 2018
There's not long left for the TT RS now, a fact the car has responded to with a couple of uncharacteristic niggles. First, the exhaust has developed a gentle but disapproving rattle at start-up (at least, I think it's the exhaust – it crops up only fleetingly) and, second, the little popout dimmer switch for the Virtual Cockpit has stopped working.
Mileage: 8811
Back to the top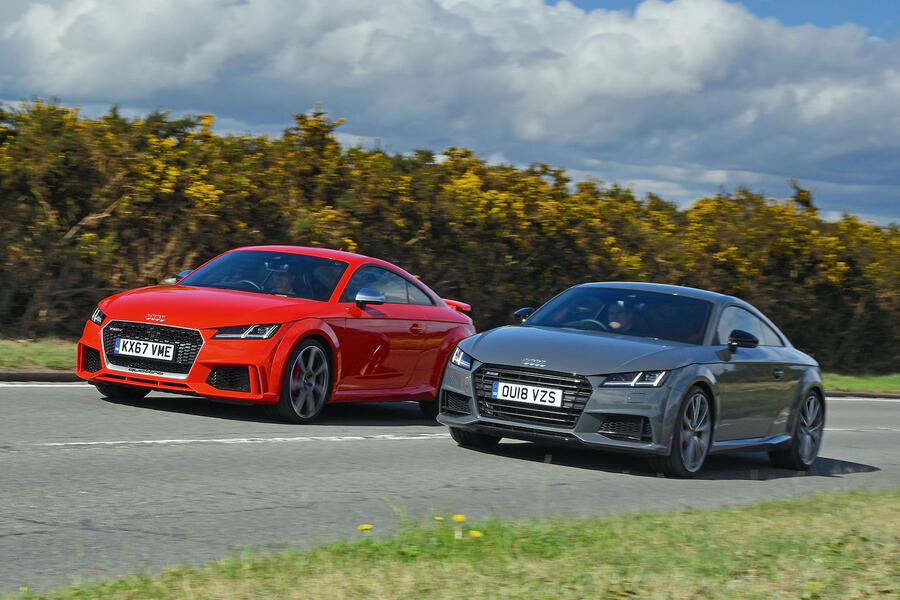 Is a TT RS really worth £10k more than the 305bhp TT S? Only one way to find out - 16th May 2018
Whatever opinions you've pre-formed about the TT RS, its combination of talents is unarguably hard to find elsewhere.
We're not just talking about 400hp and all-wheel drive, either. Desirable two-door coupés with a compact wheelbase and usable boot are not exactly thick on the ground. Sure, there's the BMW M2 and the Porsche 718 Cayman, but most mainstream manufacturers abandoned the segment long ago.
Consequently, one of the RS's most significant rivals comes from within Audi's own stable: the slightly more middleweight in concept TT S. Its headline advantage over the range-topper appears, naturally enough, at the bottom line.
A coupé, with a manual six-speed gearbox, starts at £41,205 – undercutting the RS's entry-level price by a cool £11k. Even with the optional DSG dual-clutch gearbox selected, you'll be the best part of £10k to the good.
And for that you get the same 305bhp EA888 2.0-litre turbocharged engine that makes the Volkswagen Golf R so relentlessly wonderful, not to mention a less aggressive styling pack that does away with the fixed spoiler and in-your-face honeycomb grille.
The TT S we borrowed even came in Nano grey, a pleasant shade unavailable to the RS buyer. I rather like the more buttoned-down look.
Sure, there are some marginal differences inside – the Alcantara has gone from the steering wheel and gearlever; the drive select and starter button have migrated back to the dashboard; some trim materials are mildly less expensive; and the Virtual Cockpit MMI system is slightly less ritzy – but it's the same basic (as in high-end) experience, and you even get the all-important adaptive Magnetic Ride dampers as standard.
Unfortunately, in this instance, they came attached to optional alloy wheels no smaller than those fitted to our RS. Taking the TT S's softer suspension settings into account, the resulting brittleness reiterates what we'd long suspected: you tick the 20in wheel option at your own risk.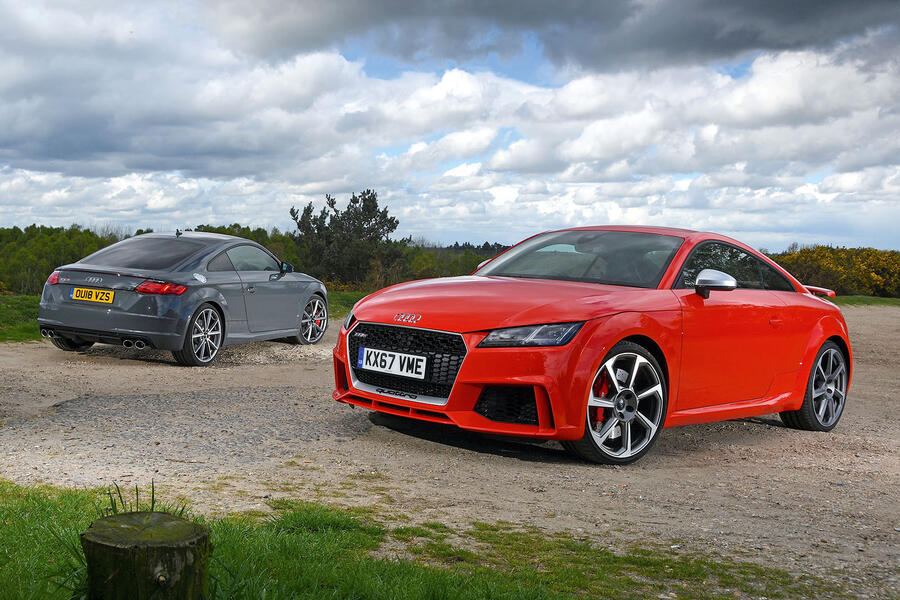 Still, the blend of amenability, pace and feigned four-pot burble is never a thread less than convincing. At lowish speeds and with run-of-themill throttle openings, the TT S is barely any less keen than the RS.
In fact, its response to marginal inputs is probably a notch better than in its sibling despite giving away 74lb ft in torque. Beyond the usual beat of lag, I suspect there's an economy-minded accelerator pedal tune to blame for that, Audi being keen for the notoriously thirsty in-line five not to rouse itself without reason.
As a result, a commuter – or anyone generally constrained to town driving – might start to wonder what all the fuss is about. After all, 4.6sec to 62mph is plenty swift enough, and the same quick-shifting seven-speed DSG makes it no harder to exploit. You'll generally be doing better than a 30mpg average too – which you generally won't in the RS.
Eventually, though, side-by-side driving will only let you play devil's advocate for so long as the RS's retort is only ever 15mm closer to the bulkhead – and to argue against it is like preaching the virtues of soda stream cola while supping The Real Thing.
Certainly, prodding the heavier, thirstier, lustier lump even half-awake is an object lesson in character. The EA888's chirpy baritone is no match for the offbeat bawl of a 1-2- 4-5-3 firing order or the valvetrain frenzy at 7000rpm.
With the turbo and camshaft profile colluding, the five-pot doesn't just outperform its stablemate but triumphantly rewires the TT's appeal with each ascending 1000rpm too – and that's virtually the litmus test of engine greatness.
Merely by being the bedrock for this firework display – by being immovable and imperturbable – the RS's stiffer suspension settings often do enough to win you over without feeling fundamentally different from the TT S's own quattro-fortified chassis. It is sharper and flatter and a little more incisive, and that is sufficient.
More often than not, the distance between the two is only half-a-litre big. And worth every penny.
Mileage: 8328
Back to the top
Limited lane assist - 2nd May 2018
Previously, Audi's lane assist function was useless. The TT we ran a few years ago would pogo endlessly between white lines, if it recognised them at all. Now, though, it'll steer our TT almost faultlessly with no input from you whatsoever. But only for 12sec. Then it'll insist you get back to work. Which does make you wonder what the point is…
Mileage: 7855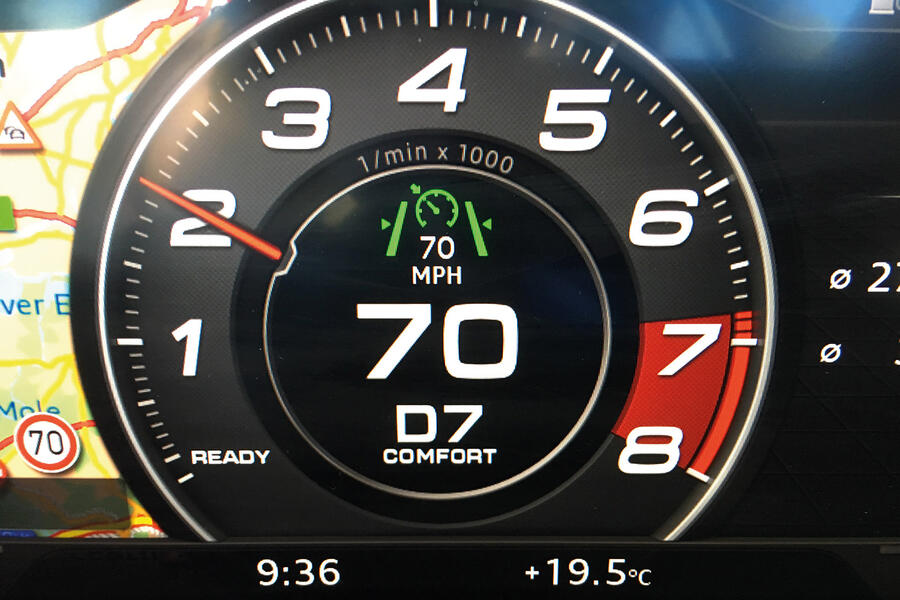 Back to the top
Life with an Audi TT RS: Month 5
Like most modern rabid Audis, our coupé is dividing opinion - 18th April 2018
Not before time, the TT RS has really started doing the rounds among the Autocar staff.
Its popularity with the usual suspects was never seriously in doubt – it has too much power and prestige to spend much time standing idle – but the car seems to have been all over the place recently, and with nary a Cackett crisp packet in sight.
Handing over the keys to a longterm test car is always good value for the 'fresh pair of eyes' comments it garners, but it has proven doubly so with the TT RS because it underlines what a divisive car it tends to be among true-blue enthusiasts.
First, there are the haters. Audi collects these more avidly than any other premium brands as a familiar factor of its decision to build very fast cars with an unapologetic degree of built-in inertness.
Some of the arguments here are difficult to fend away: no, the steering is not what you'd call talkative; yes, the throttle response is Mr Whippy-soft when Comfort driving mode is engaged; yes, the brakes sometimes squeak; no, I don't like the heartbeat noise it makes when you switch it off either.
It's indicative of the car's other qualities, though, that I find myself nodding in agreement while also building a defence for it like Gregory Peck in To Kill a Mockingbird.
Sounds fantastic, though, yes? Goes like a stabbed rat over 3000rpm, no? Lovely inside, too, and not uncomfortable either given its seriousness.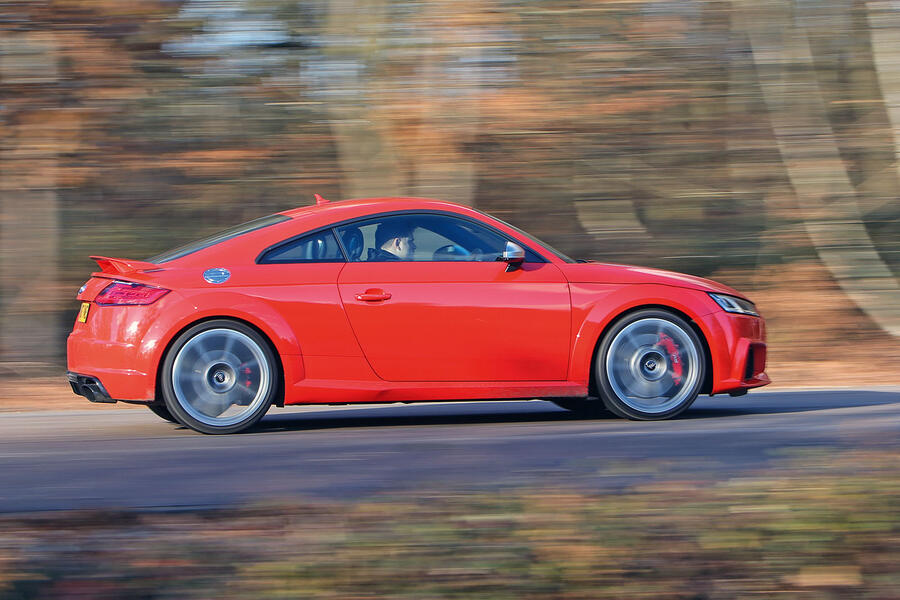 Of course, short of having it stand up in the car park and catch an empty glass, these people are not going to be swayed; the TT RS doesn't light their pants on fire at the critical moment – ergo, coupé job number one failed.
The fence-sitters are an easier bunch to get along with. Their observations are usually of the ruminative, personal sort: I'd never buy one without the Black Pack; I'd relinquish 25% of the boot space for more rear leg room; I bet it would be even comfier still on 19in wheels and better with a manual 'box; I'm not so sure a TTS wouldn't do 90% of the job with only 70% of the thirst.
The last one, undeniably, is a thinker. The TTS shares the 306bhp 2.0-litre EA888 engine with the Golf R, which is around £10k cheaper than the TT RS and, although 38.7mpg versus 34.4mpg doesn't sound like much, the RS has struggled to get meaningfully past a 27mpg longterm average, and that's based on quite a lot of very modestly paced motorway miles.
Some borrowers – inevitably those stuck in town – have reported seeing closer to 18mpg. I'd be surprised if the TTS didn't comfortably trump those figures in the same conditions, and surprised too if it proved to have quite such a voracious appetite for engine oil, the five-pot having recently drunk all the lubrication it started with.
Of course, the RS has an extra cylinder to grease and a spectacular talent for revving all the way to its redline, something it has apparently induced everyone to do repeatedly.
Does that make an Achilles heel of the car's one standout feature, as was suggested to me? Nope. For my money, it well earns the extra TLC. Now leave the keys with me.
Love it
SCROLLING INDICATORS It costs nearly a grand for someone else to enjoy those Knight Riderstyle indicators, but they're too fetching to consider not having.
Loathe it
FUEL FILLER CAP Its conspicuousness is a longstanding Audi TT tradition, but the current one looks too much like a Halfords knock-off.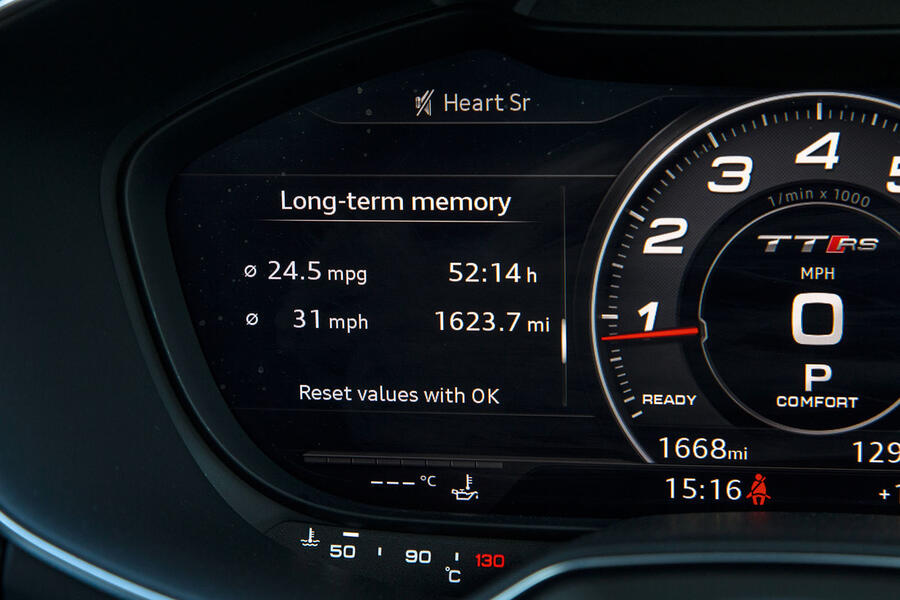 Mileage: 7637
Back to the top
It"s bigger than you think - 4th April 2018
I wasn't planning on buying a bike. I went to the shop for something else. I thought the TT's modest load space would save me: no way would I get a bike in there without dismantling it. Well, blow me if it didn't go straight in, front wheel 'n' all. Of course, the passenger seat is fully forward and tilted, but that's just a sign of how much I secretly wanted it to fit.
Mileage: 5818
Back to the top
Life with an Audi TT RS: Month 4
Virtual cockpit clarity - 21st March 2018
Many thanks to everyone who got back to me regarding the right-hand screen of the TT's virtual cockpit. For the record, you click right when in 'Car' mode, which accesses a sub-menu with 'Additional Display' in the left-hand screen. Problem is, I'm not given the choice to scroll through the media/radio options without exiting the sat-nav map.
Mileage: 5423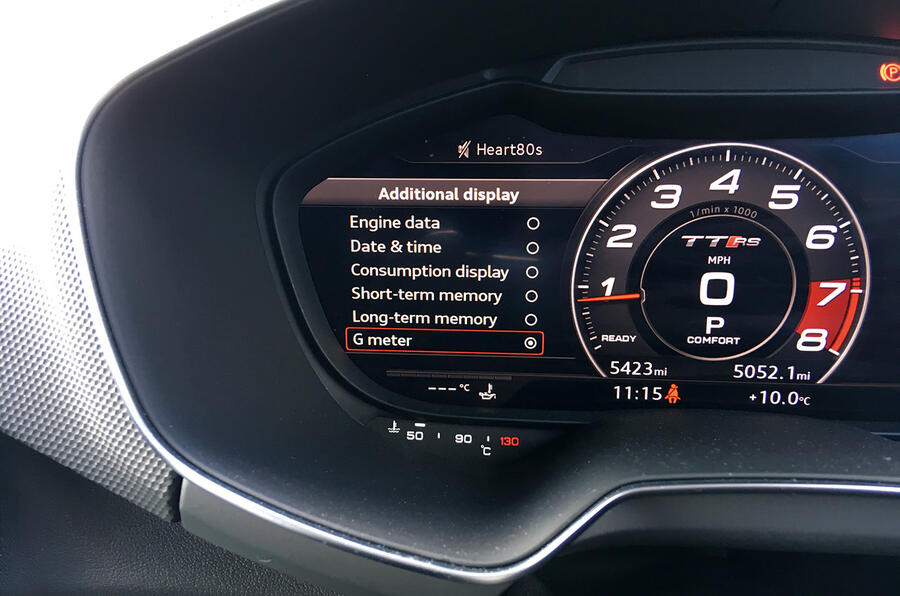 A look at the TT"s past - 7th March 2018
A chap emailed me about the TT RS recently, and mentioned in passing that the model might potentially be more of a spiritual successor to the Ur-Quattro than anyone had given it credit for. Certainly this wouldn't be difficult – as the amount of people connecting the dots between Audi's homologated 1980s icon and its twee latter-day coupé is likely very small – but as our man owns examples of both cars (and was referring mostly to the five-pot and digital dash), his two cents are rather well earned.
For me, the TT, no matter what engine has been shoehorned into its britches, falls well short of the chin-jutting attitude exhibited by a car that I still associate with Walter Röhrl and Stig Blomqvist. Nevertheless, I'll concede that the RS's position has undergone a tectonic shift since we took delivery. This has less to do with the car itself, though, and is more about the status of Neckarsulm's other contenders. In previous years, the TT (and the mechanically similar RS3) were overshadowed not only by larger models but also by the attention- seeking V8 engines that powered them. And while the last-generation RS4 and RS5 (and outgoing RS6) were an acquired taste in some respects, no one questioned their integrity as driving machines; they were uncompromising, stringently fastandevocativeinawaythatwas acutely Audi's own.
What has followed recently has not necessarily been for the worst – there's a fine argument which says that the new 2.9-litre V6-engined iterations are better all-round daily drivers than they've ever been – but you'd have to be supremely generous not to notice that some of the serrated edge has been judiciously planed away.
The mournful absence of a naturally aspirated V8 soundtrack is even more telling; the turbocharged unit co-developed with Porsche can claim several advantages over its atmospheric predecessor, but intrigue and emotiveness at 8000rpm is not among them. And with the old bombastic RS6 in the final throes of production, the changing of the guard for softer, subtler replacements casts rather a different light on the MQB cars –to the extent that if you asked me which current RS model was likely to provide you with an experience of quattro one might call characteristic, there's every chance I'd now say the TT.
Well, all right, I'd probably say the RS3 because it has a proper boot, genuine back seats and is better-looking, but you see where I'm heading. The TT, to its coupé-ish credit, is usefully lighter and lower than its hatchback sibling (and very marginally quicker too) and, with the optional adaptive dampers fitted – as you must – I'm not so sure that it doesn't ride with slightly greater aplomb as well. Either way, I'm referring to the other end of the scale, where the RS will do utterly savage and severe things with the superciliousness of a neurosurgeon. Equally, it will do them while bathing you in the remarkable sound of a tightly wound inline five engine being ceremoniously unwound at the end of every turn.
Factor in the impeccable interior and seemingly indestructible build quality, and you've got the Neckarsulm way in a nutshell – one that costs about £35k less than the retiring RS6 Performance. All of this was rather brought home to roost by a colleague (and self- confessed Audi obsessive) who returned from a weekend in the TT's company with a bemused look on his face. "What do you think," I enquired. "It's exactly as I expected," he replied. "Brilliant."
Mileage: 3979
Back to the top
Life with an Audi TT RS: Month 3
Where you should - and shouldn"t - save money – 14 February 2018
Speccing a modern car is baffling, and the TT RS is no different. I reckon there's a chunk that could be saved from our car's £61,080 astested price. Keeping the standard wheels knocks off £1300, while ditching electric seats and forgoing the OLED rear lights saves another £1600. But the sports exhaust, at £1000, is money very well spent.
Mileage: 3116
Back to the top
Life with an Audi TT RS: Month 2
The squeaky anchor rumours are true – 31 January 2018
You might have heard that the TT RS's brakes squeal. The observation was made recently in a high-profile corner of the internet, although I am inclined to agree. It doesn't happen all the time and, if you are playing Sister Morphine loud enough, you won't hear it anyway. But it is there occasionally, distant and irksome. And that's unarguably too often.
Mileage: 2054
Back to the top
Life with an Audi TT RS: Month 1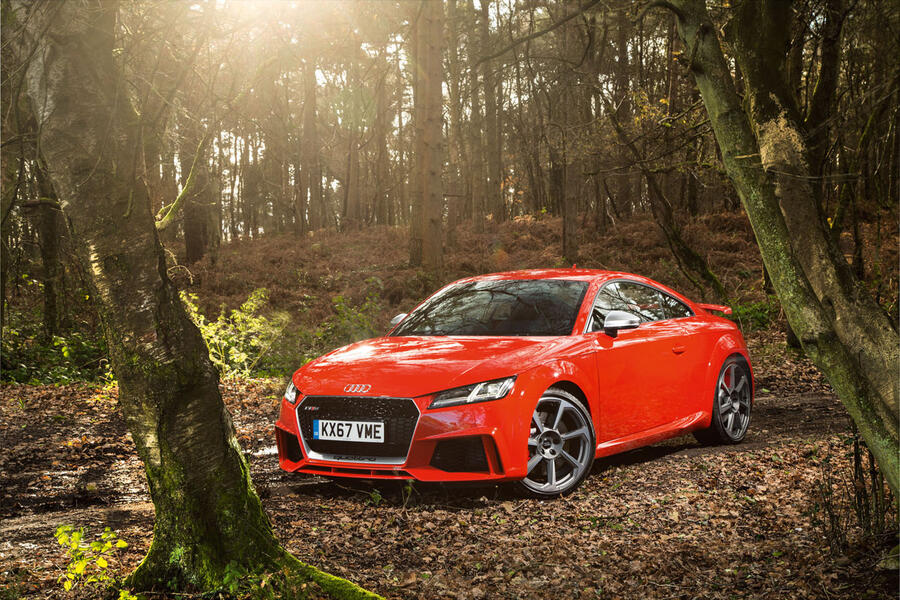 Fussing with the TT's Virtual Cockpit display – 17 January 2018
Christmas ought to have been the ideal opportunity to get to know the TT RS a little better, but in recollection it feels like I spent most of the time fussing with settings and screens and other peripheral nonsense.
Some of this fumbling was inevitable, of course: like any other expensive German car, the RS is only slightly less adjustable than a Tempur mattress.
Long gone are the days when getting the seat and steering wheel in the right place was the bulk of the job. I spend about a million times longer simply concerning myself with whether I want the seat to default to either the first or second of its three heat settings. And that's just the tip of the iceberg.
In the TT, Audi's devotion to its Virtual Cockpit system is total. The decision to sacrifice the additional pop-up screen on the centre stack (as you'd find in the current RS3) is mostly about accommodating the swoopy dashboard and its trademark vents.
And as good as the instrument cluster-based 12.3in display is, it does take some getting used to – especially if you've become accustomed to fiddling with the infotainment system by means of the dial that lives beneath your left elbow.
I suspect the omnipresence of such controllers is the reason why Ingolstadt has retained one because it is almost redundant on the TT, the steering wheel-mounted buttons offering all the functionality you really need.
The upshot is that you very rarely find your eyeballs moving further south than the middle of the steering wheel, which is plainly to the benefit of your general road awareness.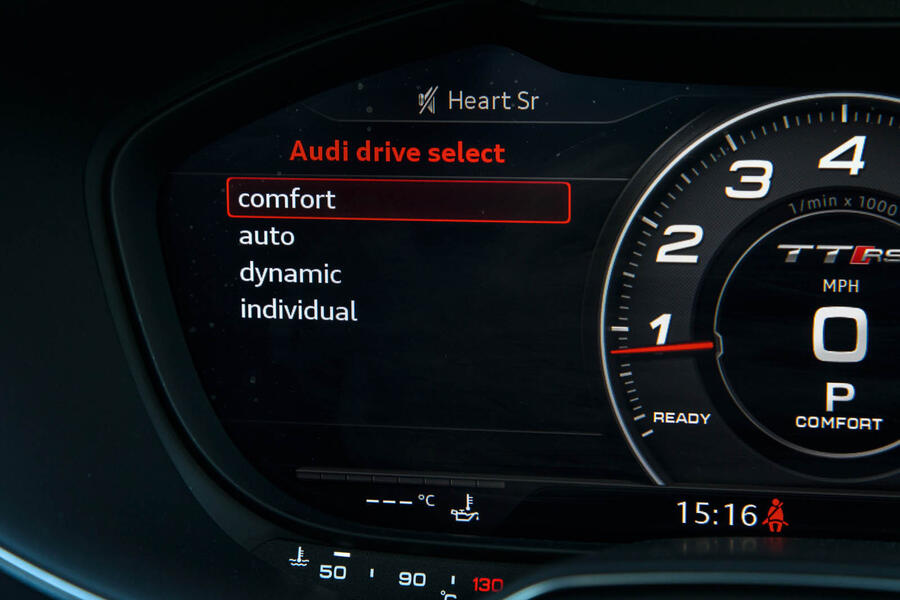 It does, however, mean that (if you're me) you rather obsess about what's on the screen in front of you. Audi will let you choose between two basic displays: one that relegates the rev counter and speedometer in favour of the infotainment system and one that puts an oversized rev counter front and centre and sidelines any other media to the left-hand portion of the screen. The latter seems the more natural choice for the RS, but selecting it means putting up with two dials that incessantly chart the engine's power and torque output as a roving percentage.
As ever, this is the kind of readout that makes interesting viewing for about a nanosecond, and thereafter serves only as a distraction. And unlike the left side, which allows you to scroll through the available options, the right is as immutable as a Teletext page.
The only solution is to have a destination constantly running on the sat-nav, which replaces both meters with on-screen directions – but when the destination is mostly my folks' house on Christmas Day, this is far too tedious.
So instead I've spent the last few weeks staring at a real-time graph of what my right foot is doing.
On top of all this, there's the inevitable tinkering with the car's drive modes to be indulged.
In the main, the preset Comfort setting is going to be shouldering most of the everyday burden – partly because the five-pot is fiery no matter what, but mostly because the RS is easily taut enough to make its more aggressive suspensions setting all but redundant on UK roads.
The same reasoning rather takes the edge off the all-guns-blazing Dynamic mode, leading to an ongoing fuss over which bits best fit Individual for when you're in the mood.
Right now, I've opted for Auto for the engine and gearbox (taking for granted that the powertrain recognises what sliding the latter into paddle-shifting manual means), kept the suspension in Comfort and gone with Dynamic for the steering, quattro system and sound.
As far as the steering is concerned, this was unexpected; Neckarsulm tending to over-egg the resistance when asked to try harder.
Not here, though: the mode only being slightly stickier than Comfort and therefore a marginally superior foil for the more stringent diff setting. Or at least that's what I think at the moment.
Mileage: 1658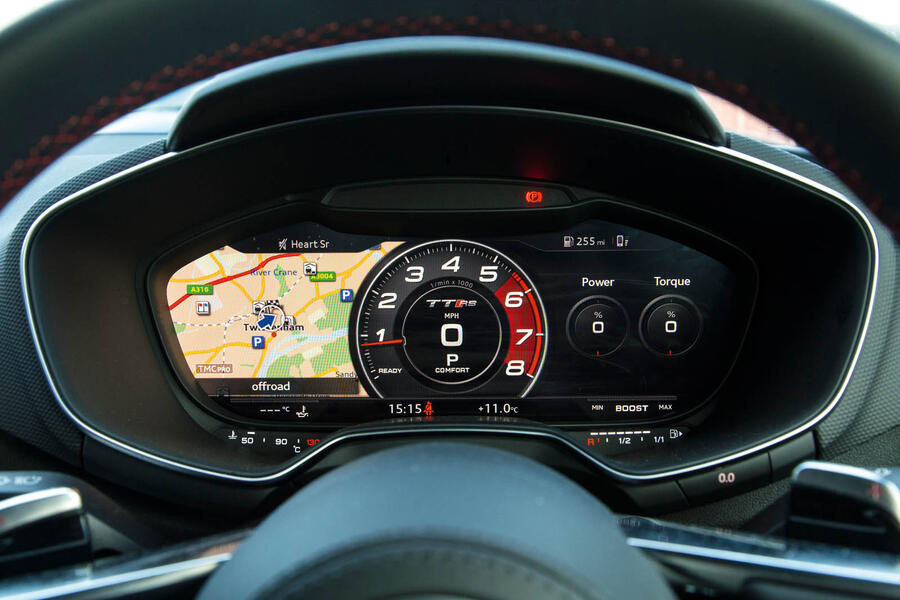 Welcoming the TT RS Coupé to our fleet – 03 January 2018
Many moons ago, Steve Sutcliffe – our one-time editor-at-large – ran a TT RS.
It was the second-generation model, already equipped with the 2.5-litre five-cylinder engine but based on the older, weightier, stuffier PQ35 platform.
It was fast, of course, and very well made and easy on the eye. Yet it was acutely unrewarding to drive – or so we all thought (and said so in the contemporary road test).
Steve, though, despite being endowed with the kind of God-given talent that had no earthly need for quattro's help, loved it – and repeatedly said so in print.
This was all mildly embarrassing at the time, and although it changed no one's mind about the car in question, it did always leaving me wondering what the quickest TT was actually like to live with over an extended period.
Now, half a decade later, I'm about to find out.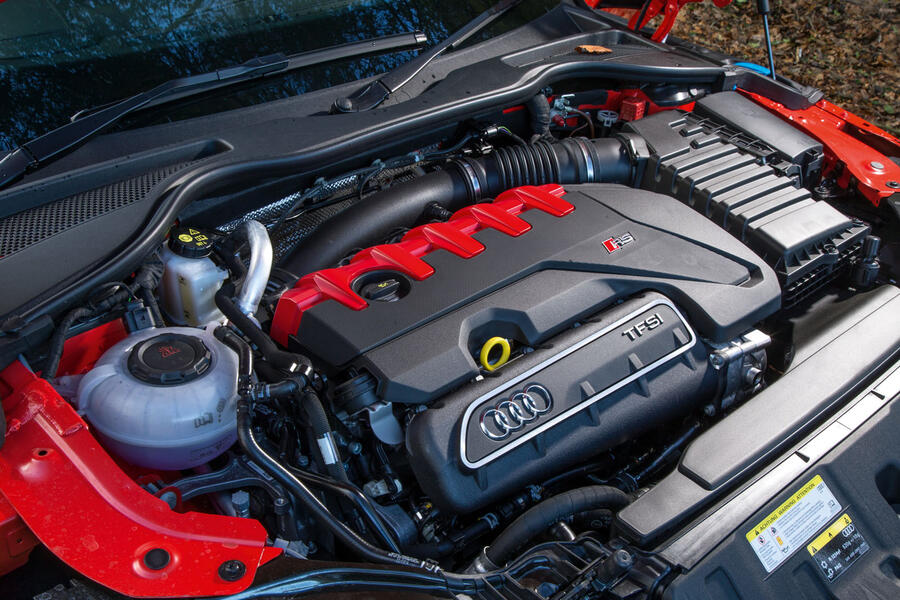 Naturally, the RS in question is a generation removed from Sutters' car; based on the MQB platform and endowed now with a preposterous output that qualifies it as a supercar-worrier.
Nevertheless, my early encounters with the model – on the international launch, in fact – have followed a familiar pattern: my respect for and appreciation of its extraordinary straight-line gusto are slowly superseded by indifference for what it does when not heading very quickly for the horizon's vanishing point.
Consequently, the most pressing question was not whether I'd like the car in six months, but whether I'd be sick of it within six minutes.
I needn't have worried. If there's one thing you can count on, it's Ingolstadt's gift for shrouding you in a haze of expensively wrought contentment.
I didn't spec our car – we let Audi UK's experts do that for us – but I can't imagine needing anything more from the cabin: the heated 'Super Sport' seats are clad in leather and are excellent and there isn't a surface or switch in the RS that doesn't groan with perceived quality.
The kit list is decent without being precisely generous, the standout feature being the standard inclusion of both MMI Navigation Plus and Audi's Virtual Cockpit system, which means there's no centre console screen to become distracted by at all.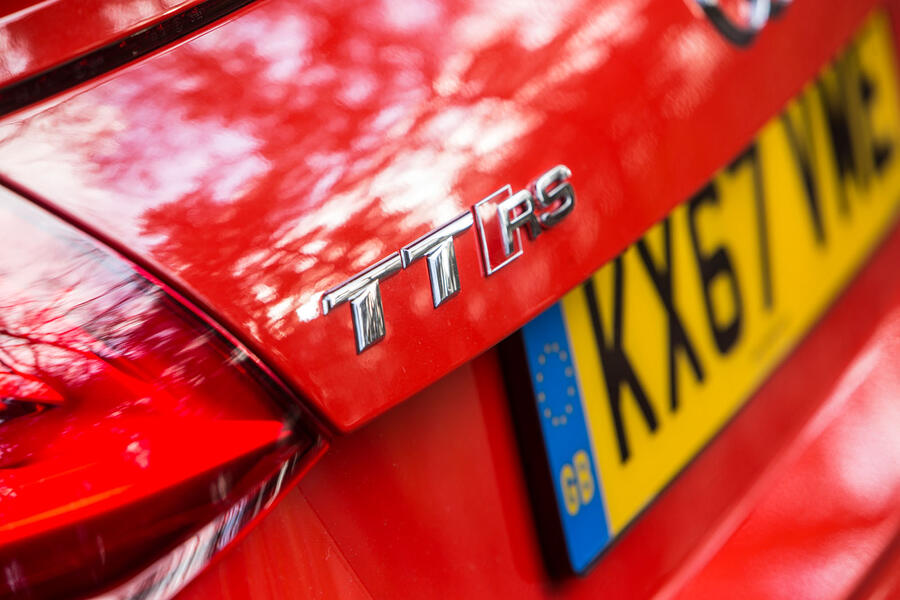 Our benefactors have thrown in the smartphone interface (£250) and the wireless charger (£325), worthy additions but slightly wasted on someone who doesn't like Apple CarPlay and (as a lowly iPhone SE user) can't charge his device remotely.
Given the choice, I would likely have opted for the Comfort and Sound Package (£1295), which delivers the rear-view camera, the Bang & Olufsen sound system and keyless entry.
But it would be churlish to claim dismay at the RS's interior: it's a perfectly wonderful place to spend half the year.
The exterior is admirable, too, although it would likely have been more so in a slightly more sympathetic colour, the Catalunya red metallic (£550) being slightly too scarlet for the TT's diminutive body.
Naturally, Audi has selected the largest possible alloy wheels: 20in seven-spoke rotor design in matt titanium-look diamond-cut finish, to be exact. I'd have been no slower in shedding the stock (and suspiciously uninspiring) 19in rims, but only the bravest soul would regard the lack of tyre profile on the (£1695) replacement and not ponder the subsequent effect on ride quality.
I suspect this concern ranks higher for me with each passing year.
Once, the prospect of an unyielding and pimply chassis was about as consequential as the saturated fat content of my breakfast cereal. But times change. I don't eat cereal at all any more (it contains too much sugar) and I don't like to have my spine compressed by anything other than a qualified medical professional.
Consequently, the solitary spec-based question I asked of Audi before taking delivery of the car was: "Does it have Magnetic Ride?". This is the £995 tick that buys you adaptive dampers and, more important, access to a Comfort setting on the Drive Select system. This is desirable on any Audi, and all but essential on RS models, which are typically set up to jostle the wiring from a pacemaker.
Happily, this was also deemed the first thing on Audi UK's list – along with the RS sport exhaust system (£1000) and matrix LED lights front (£945) and back (£800). It is the dampers, though, that have ensured my first week or so with the TT has been thoroughly agreeable.
Sure, it has been almost exclusively motorway miles thus far – but not testing your sanity between home and work is the bedrock upon which all long-term test cars stand or fall. And although those wheels make it fantastically noisy on the concrete section of M25 in Surrey, the ride is on the acceptably firm side of pliant.
Throw in the patently ferocious mid-range shove of a five-cylinder engine that makes overtaking an emphatic affair even allowing for the faint out-of-box tightness that comes from having covered less than 300 miles, and it's fair to say that – thus far – it's rather hard to fault the RS in any meaningful terms. That will come later. Surely.
Second opinion
The TT has the dual role of showing that RS models can be keen driver's cars rather than hot rods, and that the TT itself is not simply a case of style over substance.
A tough ask, one short blasts have yet to convince me of, but nothing a long-term test can't answer once and for all.
Mark Tisshaw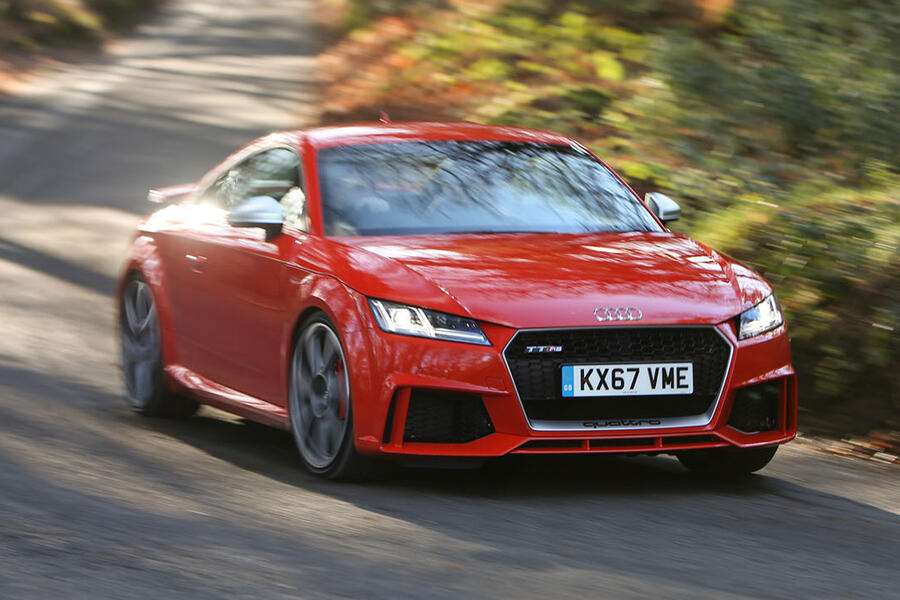 Audi TT RS Coupé 2.5 TFSI quattro specification
Specs: Price New £52,450; Price as tested £61,080; Options 20in '7-spoke rotor' alloy wheels in matt titanium-look diamond-cut finish (£1695), front RS logo red brake calipers (£325), RS Red Design Pack (£895), Matrix LED headlights and dynamic front and rear indicators (£945), Audi Smartphone Interface (£250), RS sport exhaust system (£1000), RS sport suspension with Audi Magnetic Ride (£995), Electrically adjustable front seats (£800), Matrix OLED tail-lights (£800), Audi Phone Box with wireless charging (£325), Catalunya red metallic paint (£550)
Test Data: Engine 5cyls, 2480cc, turbocharged petrol; Power 394bhp at 5850-7000rpm; Torque 354lb ft at 1700-5850rpm; Top speed 155mph; 0-62mph 3.7sec; Claimed fuel economy 33.6mpg; Test fuel economy 26.4mpg; CO2 192g/km; Faults None; Expenses None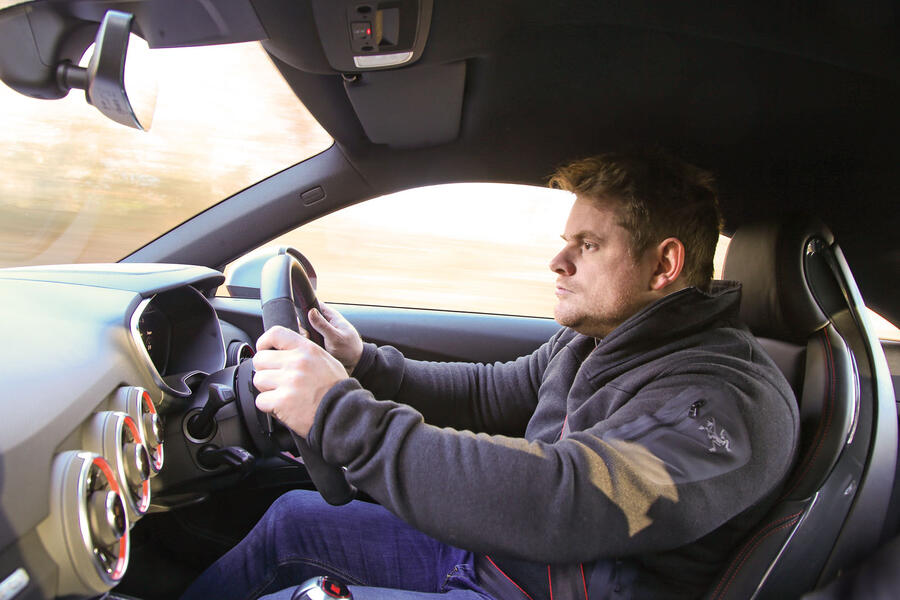 Back to the top
Tweet Widget
Facebook Like
Google Plus One
Nguồn: www.autocar.co.uk