Tweet Widget
Facebook Like
Google Plus One
Our Verdict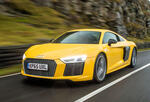 Audi sends its mid-engined flagship in search of supercar scalps
First Drive Audi R8 RWS 2018 UK review

Removing the R8's four-wheel-drive system has created the sweetest version of Audi's mid-engined supercar yet, as our first UK drive reaffirms

First Drive Audi R8 RWS 2018 review

Audi has gone and done the unthinkable: made a rear-driven R8. Can it offer McLaren 540C thrills for a price cut?
What is it?
In the words of Audi, until recently this was the 'unthinkable' car.
In fact, after decades and many marketing millions poured into the promotion of ever-dependable quattro four-wheel drive technology, this machine's mere existence is a form of anarchy within the halls of Ingolstadt.
But not for us or, we suspect, you – because the R8 RWS is now the least expensive but potentially most rewarding version of the marque's mid-engined supercar. 'Focused' and 'pure' are the marketing buzzwords here and those are certainly nice to hear from a brand that has for so long grounded itself in luxury and security.
You'll know of the more hardcore R8 iterations that have sporadically bubbled up in the past – notably the bewinged GT and LMX versions of the first-generation car – but none has promised quite the driver appeal of this RWS model.
The letters stand for 'rear wheel series', with the hitherto quattro-driven R8 shorn here of its front driveshafts for a limited production run of 999 cars. This, then, is the first rear-driven series-production model Audi has ever offered.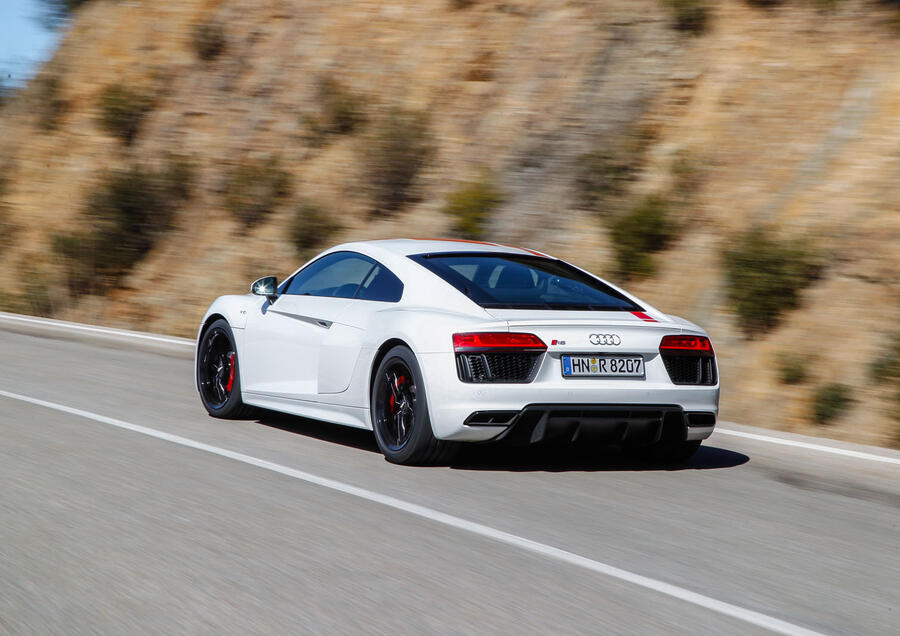 Both tin-top and Spyder versions will go one sale (at the time of writing this, some build slots remain unspoken for), with the former expected to outsell the latter three to one.
Rather than turning to the big-hitting V10 Plus, the base for the R8 RWS is the less powerful of the two existing R8 models, so it develops 533bhp from the same hell-raising 5.2-litre engine and channels it through a seven-speed S tronic dual-clutch gearbox. There's no manual option, but this is still a fabulous powertrain of genre-defining character and remains unaltered for this application.
The same cannot be said for the suspension, which is only available in passive guise; magnetic dampers are off the menu. It's mostly the same hardware you'll find on the four-wheel-drive car – even down to the wheel sizes – but, because the RWS demonstrated a taste for high-speed oversteer during early tests at the Nürburgring, Audi has made tweaks.
That has meant stiffening the front anti-roll bar and dialling a fraction more negative camber into the rear axle. The dampers themselves are also firmer than on the standard car – that"s a surprise, for reasons we'll come to later.
Aesthetically, there's little to tell the car apart barring optional decals and a plaque on the dash that reads '1 of 999' (an individual build number would have been nice). Making it more unlikely that you'll identify one of these cars on the roads is the fact that they can be specced with all the options available on other R8 models. At the launch event was a grey with tan leather example riding on 20in wheels and with a wing; you'd have sworn it was a 'garden' V10 Plus.
We should quickly mention performance – although, given the significance of the driveline, it's of secondary importance here. The RWS model will launch to 62mph in 3.7sec, which is 0.3sec off the standard coupé and fast enough for most, if not truly supercar quick. Top speed is 198mph.
In the end, by going for the RWS, you lose a little pace, but you save roughly £14,000 compared with the £126,000 entry-level four-wheel-drive R8 and make satisfactory gains elsewhere.
What's it like?
This section comes with the caveat that a cancelled flight meant our time with the car was short, and thus a full road test on British roads beckons.
But moving on – does this car feel rear-driven, then? In normal driving, not overtly, it must be said. Stability still pervades, but it's now served with an element of poise that wasn't always there before.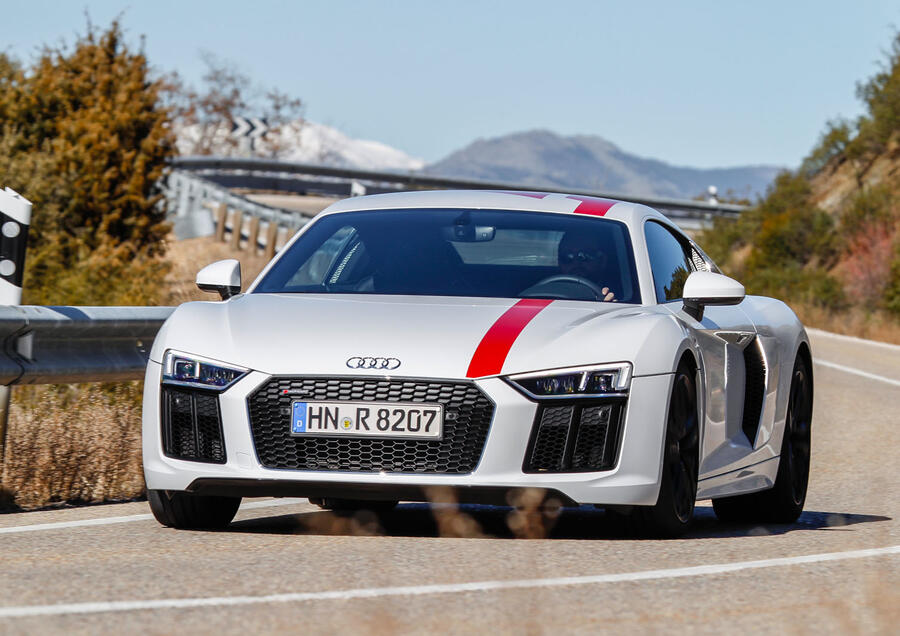 In fact, the most remarkable thing about the RWS model is the way it rides on that retuned suspension. On the admittedly smooth roads north of Madrid, its travel seemed to be simultaneously longer and more gracefully controlled than before. It's hard to describe, but imagine air suspension with the communication injected back into it, and the front axle in particular seems to have shuffled off the slightly brittle sensation of the four-wheel-drive car. It is wonderfully, unexpectedly supple and invites you to push the chassis hard.
Indeed, contrary to what you might think – and, make no mistake, this car can powerslide for Germany – the RWS model is actually mostly about its leading axle. Drive with some commitment and those familiar with the existing R8 will detect a palpably crisper, lighter response from the steering, which no longer operates under the strain of 50kg of driveshafts and differential hardware.
We've got a lot of time for the way the all-wheel-drive R8 will jink sideways under power and then ferociously haul itself straight, and its all-weather pace can be bewildering even if you're not in the mood, but the RWS is altogether more gratifying to drive at the brink of grip and traction. No surprises there.
To vividly make the point, Audi gave us an empty military base and a few cones to explore the car's limit-handling, although any conclusions are to be taken with a pinch of salt, owing to the fact that winter rubber was used. Thank the abrasive surface for that; it would have ripped summer tyres to ribbons in minutes.
If this sounds puerile, apologies – but with the RWS, you're not required to throw the chassis so violently to get it sideways and neither do you have to be quite so quick applying counter-steer. Its window of opportunity is usefully large in this sense, and if you anticipate the moment the rear axle is going to break away you can wind on the opposite lock almost at your leisure. It's a truly enchanting feeling and the RWS is impressively benign given the location of its engine.
Of course, on the road this is all largely irrelevant, but the RWS still allows its driver to indulge in that quarter-turn of counter-steer with that much less jeopardy involved, and recalibrated electronic stability control helps in this regard.
Should I buy one?
Of course, there is another rear-driven car in possession of a screaming atmospheric engine and that puts purity at the heart of its appeal; one that does so in such a freakishly tactile manner that the R8 RWS, ultimately, doesn't come close to as a sensory experience. We're talking about the Porsche 911 GT3, which is similarly priced. There's also the McLaren 540C, which boasts a sweeter chassis but is more expensive and less immediately likeable.
Putting those esteemed rivals to one side, the R8 seems to have come into its own rather nicely with this RWS iteration.
Since the V8 of the first generation was dropped, it's been a car that at times has, despite its fabulous engine and crushing pace, felt a touch uncomfortable in its supercar skin. Here, with enough power and a bit more dynamic panache, it fulfils the top-end sports car brief with aplomb.
Audi R8 RWS
Engine V10, 5204cc, petrol Power 533bhp @ 7800rpm Torque 398lb ft @ 6500rpm Gearbox 7-spd auto Kerb weight 1590kg Top speed 198mph 0-60mph 3.7sec Economy 22.8mpg CO2 tax band 283g/km Rivals Mercedes-AMG GT C, McLaren 540C Coupe, Porsche 911 GT3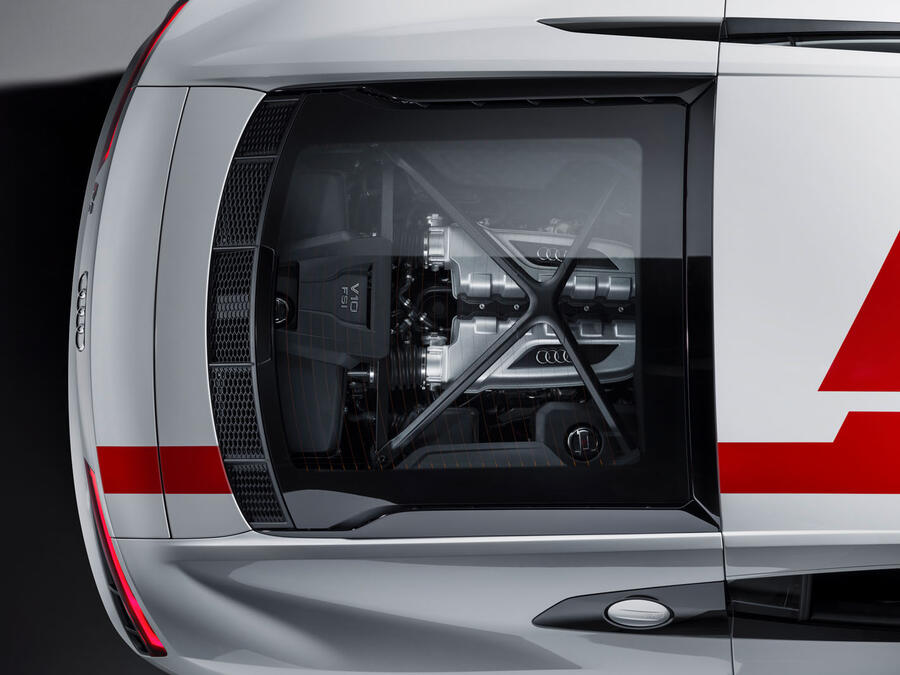 Tweet Widget
Facebook Like
Google Plus One
Nguồn: www.autocar.co.uk