The Vision Mercedes-Maybach Ultimate Luxury was one of the most talked about cars in China
The Ford stand at the Beijing motor show
The KDC at the Beijing motor show
The Luxgen 1 concept
The Yudo XTT at the Beijing motor show
The Jetour X 70 concept
The Wey concept at the Beijing motor show
The Honqi two-door coupé concept
The Dongfeng Pi
The Hybrid Kinetic Group HK GT
The Zotye i-across concept
The Qoros sports coupé concept
The Jaguar XJ50 has been launched in Beijing
The Vision Mercedes-Maybach Ultimate Luxury concept
The Mercedes A-Class saloon at the Beijing motor show
The Volkswagen Group has a range of models on show in Beijing
The Nissan Sylphy is a Chinese-market EV based on the Leaf
The Mercedes A-Class saloon is on show in Beijing
The BMW ix3 Concept previews the brand"s first electric SUV
The MG X-Motion is one of several new cars expected to be shown in Beijing
Close
While this year's Beijing motor show - officially known as Auto China - produced only limited evidence of original thinking from Chinese manufacturers, there was copious evidence of the speed at which the country's car makers are developing.
The poorly executed clones of European and Japanese models that used to fill many of the stands have nearly all gone, as (for the most part) has the obviously deficient build quality of old.
Not that there wasn't plenty of groupthink in evidence, with an abundance of very similar new models aimed at China's booming interest in SUVs – now on track to make up half of the country's market.
Many of these seemed to be pretty much interchangeable; the most interesting thing about the large, bland Roewe RX8 was the decision to name it after a rotary-engined sports car. But a neighbouring stand showed the contrast that China specialises in with the handsome MG X-Motion concept, based on the same underpinnings, previewing a production sister car that will reach the UK next year.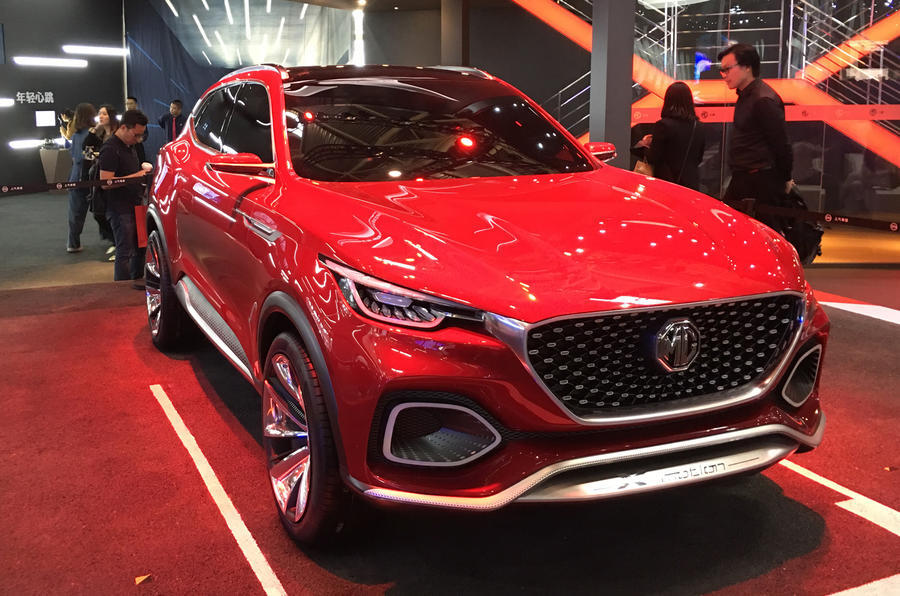 Electric vehicle (EV) concepts were everywhere, many from previously unknown brands, and showed China"s intent to move towards electrification.
These ranged from some that seemed little more than speculative vapourware to some that were close to production. The SOL E20X, the product of Volkswagen's new joint venture with Chinese maker JAC, bears a distinct resemblance to the Seat Arona and will be on sale later this year.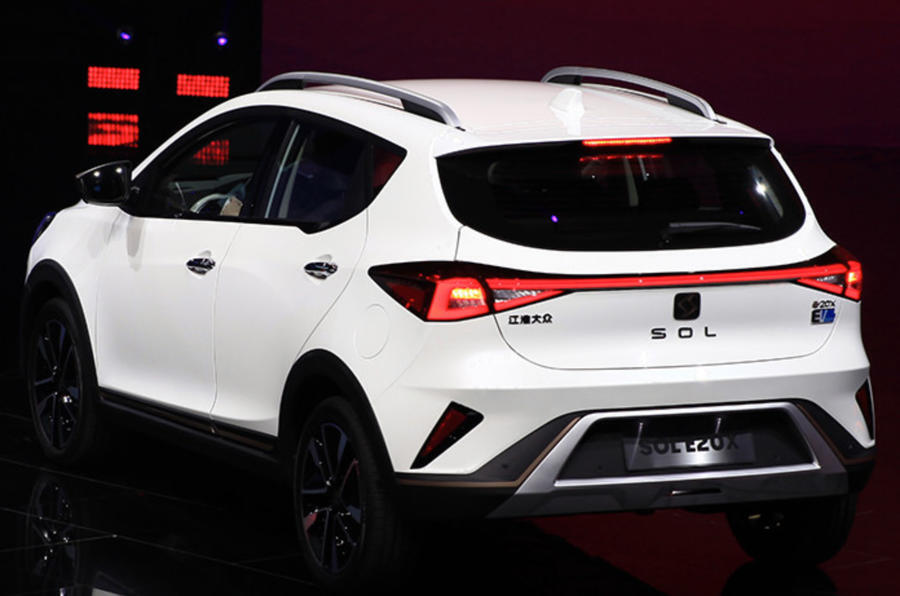 Pininfarina created two handsome concepts for new start-up Hybrid Kinetic Group – a saloon and a crossover – that both feature electric powertrains with micro-turbine range extenders.
The Over The Top Award goes to the spectacular G Patton SUV, named after the famous US general and based on a Ford F350 truck. It was introduced on stage by the general's grandson to what seemed to be the soundtrack from Gladiator.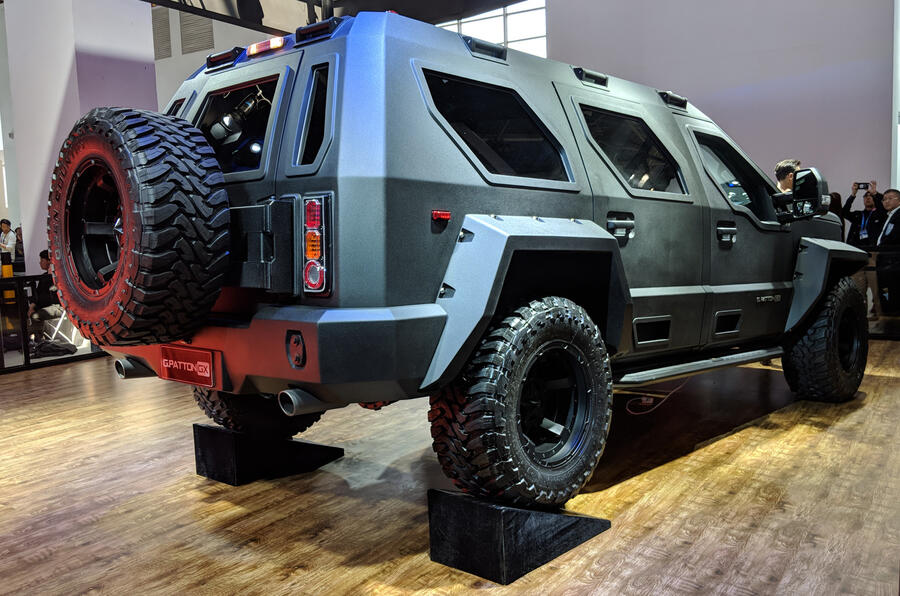 Non-Chinese manufacturers were out in force as well, with a good turnout of Europe's luxury players drawn by Beijing's status as a show that sells cars. There were no significant debuts – although the limited-to-six McLaren 570GT MSO Cabbeen Collection featured a natty golden dragon paint job – but Bentley, Aston Martin and Rolls-Royce all had well-stocked stands. 
There were plenty of China-specific models as well. Audi showed a stretched version of the Q5, with a 110mm increase in wheelbase suiting the car well.
Mercedes had a well-resolved A-Class saloon (which will come to the UK) and also the spectacularly OTT Vision Mercedes-Maybach Ultimate Luxury, a GLS-sized SUV concept with a three-box saloon rump and a split rear screen in the manner of a Bugatti Atlantic; its 24in chrome-effect wheels were the most modest thing about it. Officially gauging opinion, the size of the crowds the car drew must mean there's a fair chance it will see production.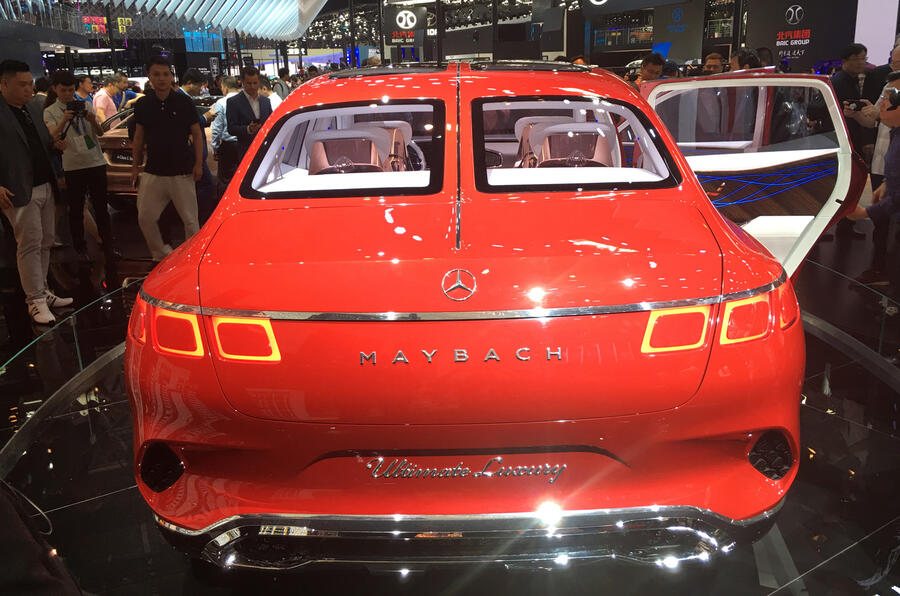 More prosaically, BMW showed off a concept of the forthcoming pure-electric iX3, with the promise of a 249-mile range, but which seems very dull when compared with the i3 or i8, let alone the far funkier Jaguar I-Pace it will compete against; amends were made with the M4-engined M2 Competition.
The recent news that China is planning to remove the requirement for overseas manufacturers to form joint ventures to produce cars locally created another interesting topic of debate for visitors; how well will some of the local brands fare if they lose this external support?
The best-placed is almost certainly Geely, which, through its acquisition of Volvo and levering that company's engineering resources, has effectively formed a joint venture with itself and is well placed to prosper if its competitors falter.
We already know that the Lynk&Co 02, which was on show in Beijing, will come to Europe with Volvo's three-cylinder hybrid powertrain when sales of the brand start in 2020 – an engine that"s also likely to be in the Volvo XC40 T5 Twin Engine PHEV.
It was definitely one of the most convincing products at the show; a lower, sleeker version of the 01 SUV that we drove in prototype form last year. With hints of plans that Geely models may well follow, this could mark the start of another Chinese revolution.
Mike Duff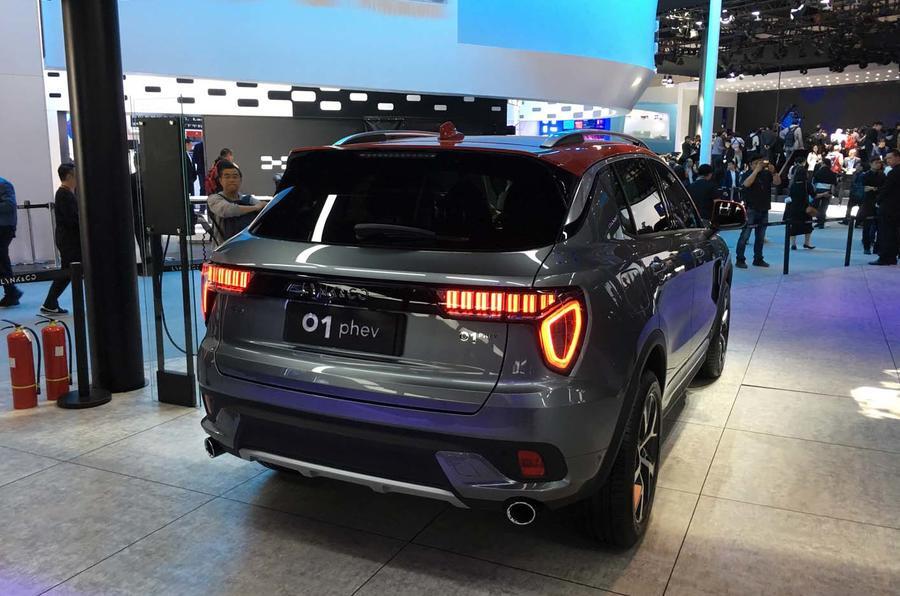 Beijing motor show 2018 - how it unfolded
The Beijing show is a key event for the major car firms to unveil some of their latest products in a huge market, and for fast-rising Chinese companies to shed stereotypes of churning out cheap copycats and showcase their increasing ability to make credible, good quality cars.
Autocar.co.uk produced extensive coverage from the show. Editor Mark Tisshaw and news editor Rachel Burgess combed the halls of the China International Exhibition Centre, bursting out their finest Mandarin to check out all the new cars.
Meanwhile, digital editor James Attwood, senior staff writer Sam Sheehan and editorial assistant Sam Jenkins co-ordinated coverage from Autocar Towers in Twickenham.
You can read all our stories from Beijing by clicking here, and check out our live coverage from the show below.
As ever, let us know what you think. You can use the comments below, tweet us @autocar or visit us on Facebook.
Beijing motor show: live updates
1410 BST / 2110 CST: As mentioned, editor Mark Tisshaw spent a good chunk of the show touring the stands of the Chinese car firms, and has picked out his five best and five worst China-only machines. You can check it out here.
1345 BST / 2045 CST: We"re winding down our live coverage on this blog (what with the show having closed for the day and all). But Tish and Rachel are still sorting through their notepads, and we"ll have some more stories and updates to come on the site, so keep your eyes out here.
Here are some of the big Beijing motor show headlines (free free to insert your own News at Ten-style bongs in between reading each):
Mercedes-Benz stole some of the early headlines, with two very different cars: the production-ready A-Class saloon (which will be coming to the UK), and the Mercedes-Maybach Ultimate Luxury electric SUV concept.
The Volkswagen Group brands launched several new models: there was a China-only Volkswagen Lavida, an Audi Q5 L and Audi A8 L for those who like their cars with more rear legroom and the Skoda Kamiq SUV (another China-only model). Continuing the China-only theme, the firm also launched a new joint venture sub-brand called SOL.
BMW showed the almost production-ready Concept iX3, an electic SUV based on the X3.
Jaguar celebrated 50 years of the XJ model with the launch of a new XJ50 special edition.
Nissan launched a new Sylphy Zero Emission, a China-only electric SUV based on the Leaf. Meanwhile, Honda showed its own China-only EV concept, from its new Everus brand.
Ford launched a new version of the Escort - yes, the Escort - which will be sold in China alongside two generations of the Focus.
Chinese firm Geely"s various brands generated plenty of headlines. Geely showed a Concept Icon that was based on the Volvo XC40 platform, while its new Lynk & Co brand confirmed it will only sell hybrid and electric models in Europe. Volvo also launched the XC40 T5 Twin Engine PHEV, while Polestar confirmed the price of its 1 hybrid coupe.
Those are the main headlines, but there are plenty other stories coming out of the show, while you"ll find elsewhere on this website and below. And we"ll have a full show report here later.
1250 BST / 1950 CST: Things are winding down in the Beijing show for the day, and one of Tish"s final stops has been the BYD stand. 
He says: "Aaaah, so that's why Audi parted company with Wolfgang Egger. Now at BYD, Egger has been given free reign to inject some star quality into the designs. The result? A generic saloon and SUV, and a concept car that looked even less inspiring than the production cars. All from the man behind the current Q7."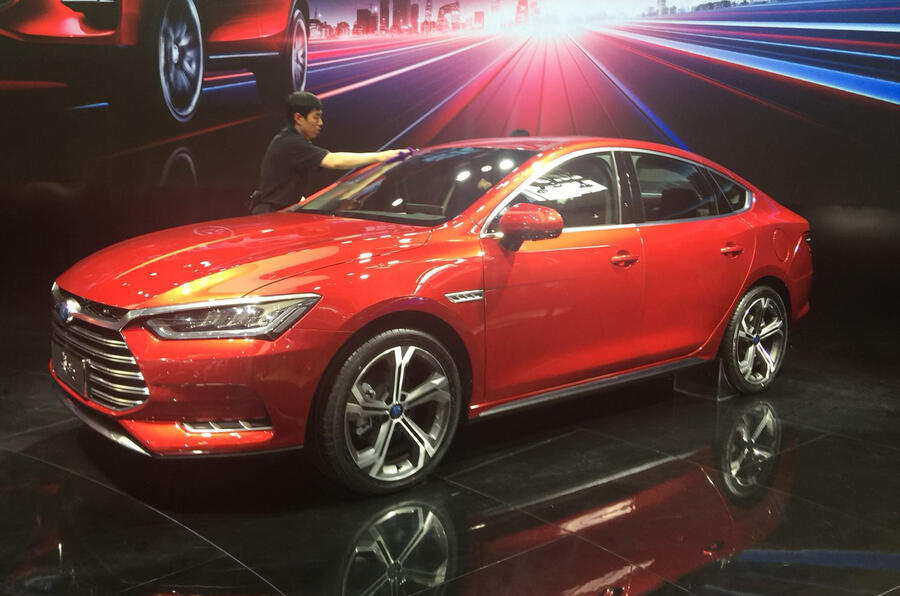 2135 BST / 1935 CST: Aiways is the work of Gumpert, the Apollo maker respun under Chinese investment. Its electric SUV concept was one of the more interesting in Beijing, if lacking a face. The sheer volume of electric SUV concepts from start-ups was one of the show's main themes.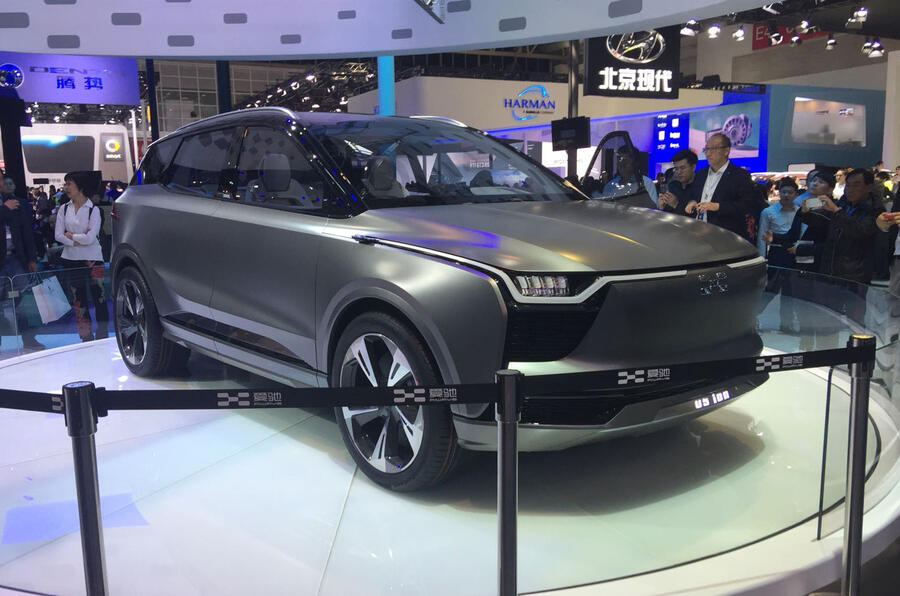 General George Patton – US WW2 war hero and now with a range of hardcore trucks named after him. Tisshaw says: "A cliche on wheels, the firm's newest model was introduced on stage by Patton's grandson, who delivered in monotone from the autocue that everything else on the road should "lead, follow, or get out the way". We await news of President Trump's order." (Although, digital ed Attwood notes that Trump is probably more interested in offerings from Great Wall... but let"s stop now before we veer too far into politics).
Dragging things back to cars the G.Patton SUV is a differently badged version of the Rhino GX, which is produced by a firm called US Speciality Vehicles. Deep down, the underpinnings apparently come from a Ford F-350 truck.  
2125 BST / 1925 CST: More from Tish: "Taiwan's leading car maker (yes, that's a thing) Luxgen brought a concept car to the show that's about as concepty as they come. In truth, it feels like a concept car that's gone through the motions in its creation."
2110 BST / 1910 CST: Changan is the latest Chinese car maker to subtly hint at plans to export to Europe and beyond with something more than just a pipe dream through the launch of its new Cos sub-brand (which we presume isn"t named after the variety of lettuce).
Tish says: "The first model ticks the start-up boxes: SUV, called 1, and is inoffensive if uninspiring in style. Changan, a partner of Ford, is well-funded and a big player in China. We haven't heard the last of Cos, even if its first model isn't that exciting."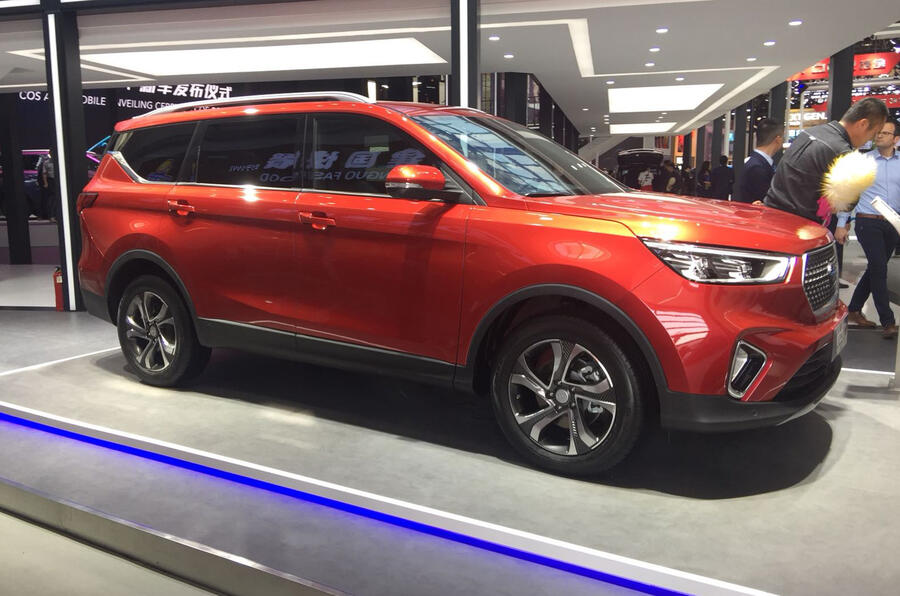 1150 BST / 1850 CST: Meet the KDC Regato, the McLaren 12C's second cousin that doesn't get invited to the family reunion. The electric car is a rather brazen copy of the McLaren and has a distinctly cheap feel to its look and execution, which is at odds to the majority of Chinese made and designed cars.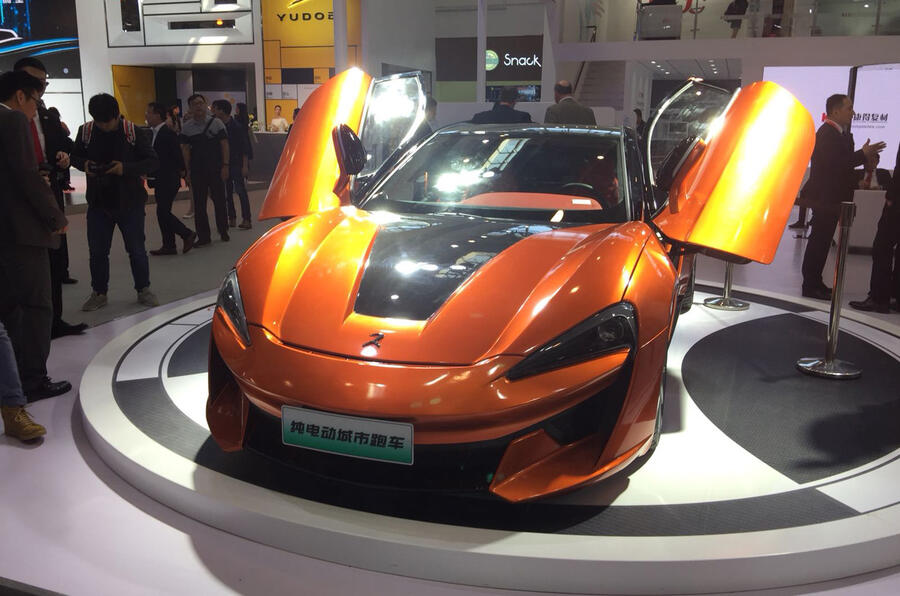 Which gives us another excuse to remind you of our Chinese copycat cars gallery...
Opinion: copycats like the BJ80 6x6 hurt the Chinese car industry
1135 BST / 1835 CST: New brands are everywhere in China – and not just start-ups, but sub-brands of existing car makers. The Jetour and its new X concept from Chery is one such example.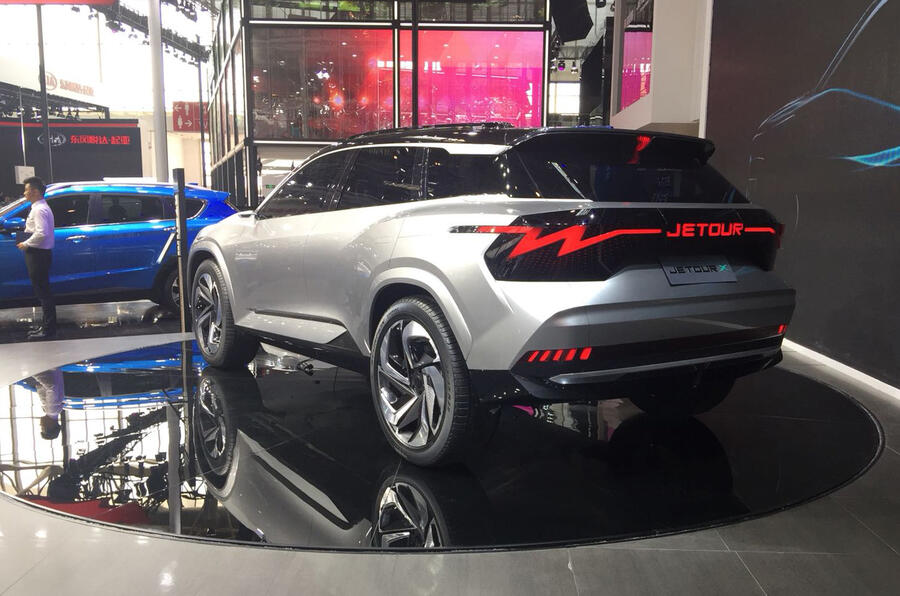 In case you were wondering, in China the Jetour brand is named Jietu, which translates as "victory road".  This concept previews the first of 10 planned models from the brand. Which is all very interesting but, let"s face it, you"re too busy looking at that crazy rear light design to care much, aren"t you? Look at them!
1120 BST / 1820 CST: More news from Tish"s Chinese car firm tour incoming...
"Yudo is a start-up Chinese car maker, of which there are many, planning to make electric SUVs and sports cars, of which many other start-ups of a similar type make," says Tish. "At Beijing it revealed the TT-7 large SUV and the X-TT exoskeleton crossover concept."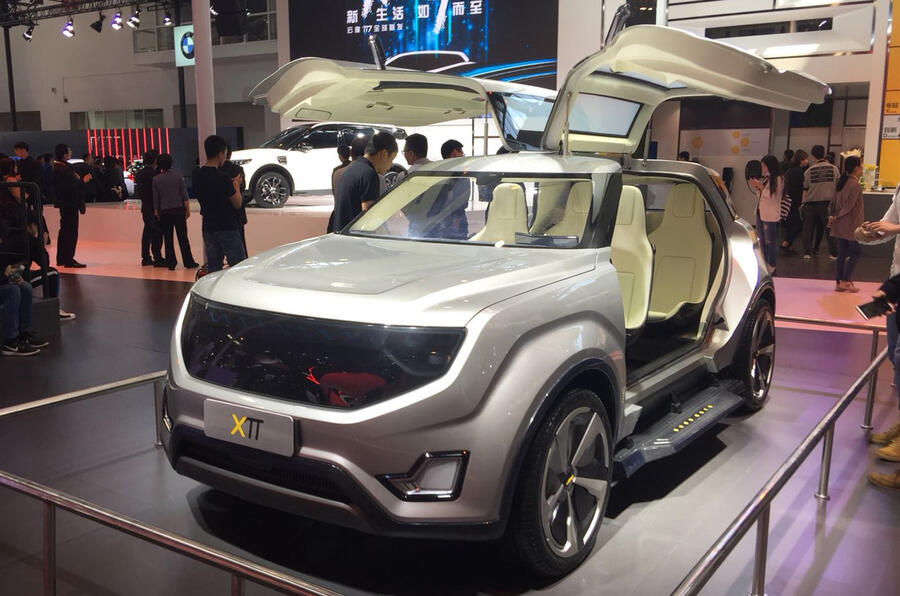 Next stop for Tish was Great Wall. Not the actual Great Wall of China (to visit that you have to make a 60-minute round trip outside of Beijing), but the car firm named after it.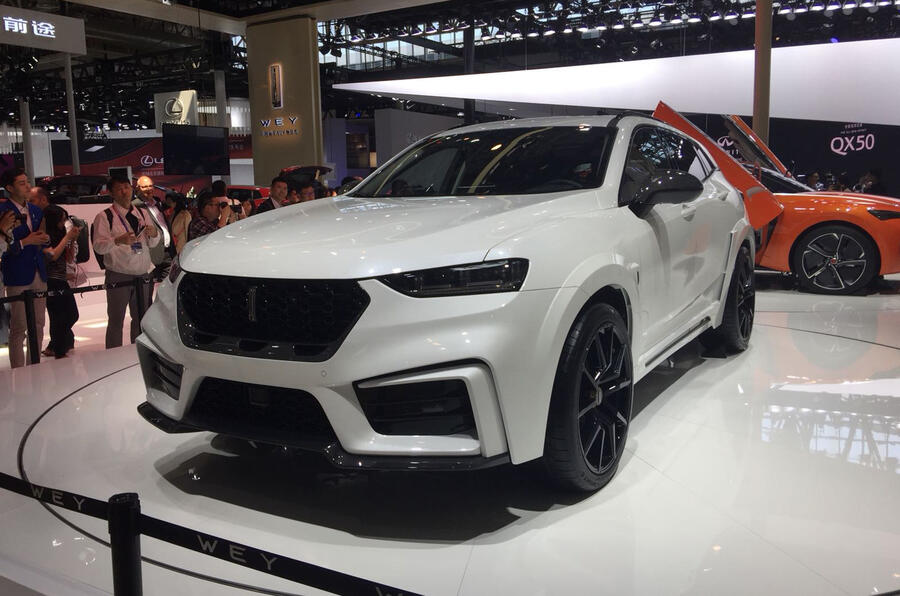 "Wey is Great Wall's premium SUV arm with real export hopes within the next few years," says Tish. "The R57 SUV revealed today (above) looks like China's answer to the Jaguar F-Pace, while the X two-door gullwinged crossover concept (below) previews how bold the firm is willing to be with its designs. Wey has our attention."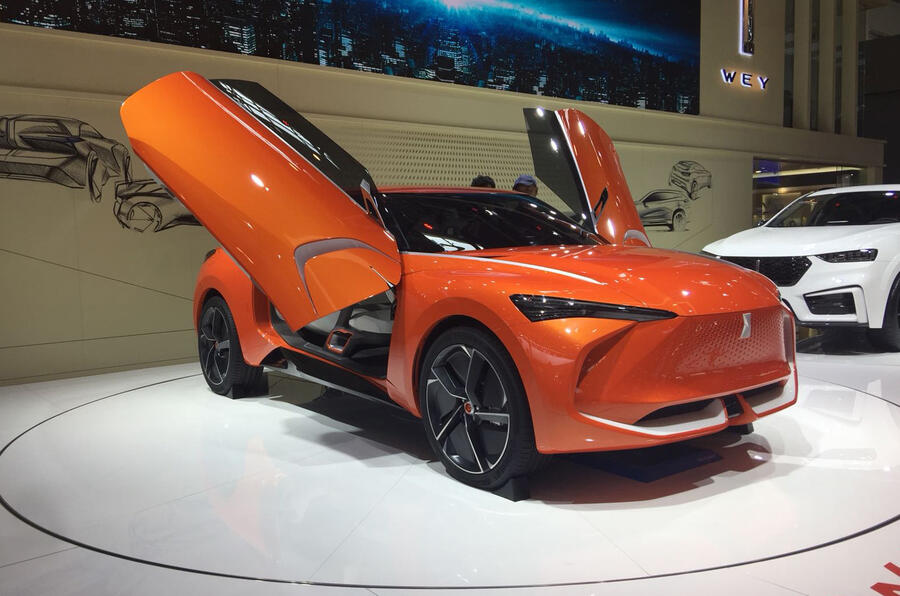 Incidentally, it"s notable that Chinese firms seem to absolutely love their gull-wing doors. Did all Chinese car designers grow up watching import VHS videos of Back to the Future? Fire up the flux capacitor, etc.
1055 BST / 1755 CST: You might have noticed that Tish has spent much of the show touring the Chinese firms, presumably clutching a copy of last week"s Autocar magazine, complete with its A-Z of Chinese car firms. 
His latest stop? ""Weltmesiter' means world champion in German, means a bit to BMW's history, and is also now the name of a new start-up Chinese car maker. To date it has made the XX sports car, and now it has made an SUV called the EX5, with the XX shown off at the show today."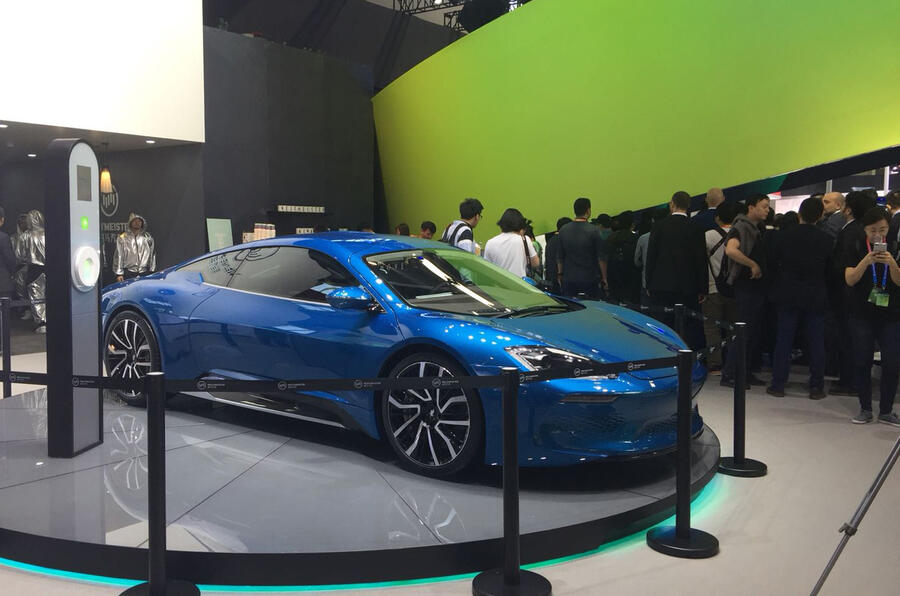 By the way, we initially thought Tish was slacking and leaving dummy "XXXXX" copy where the car name should have gone, but it really is called the XX... 
1045 BST / 1745 CST: Honqi is China's oldest car brand, and is known as the favourite supplier for the ruling party and classes with its large, luxurious saloons. And now it is looking to the future with a new concept car, a large, sleek two-door coupe that looks to reinvent the idea of a Chinese luxury car.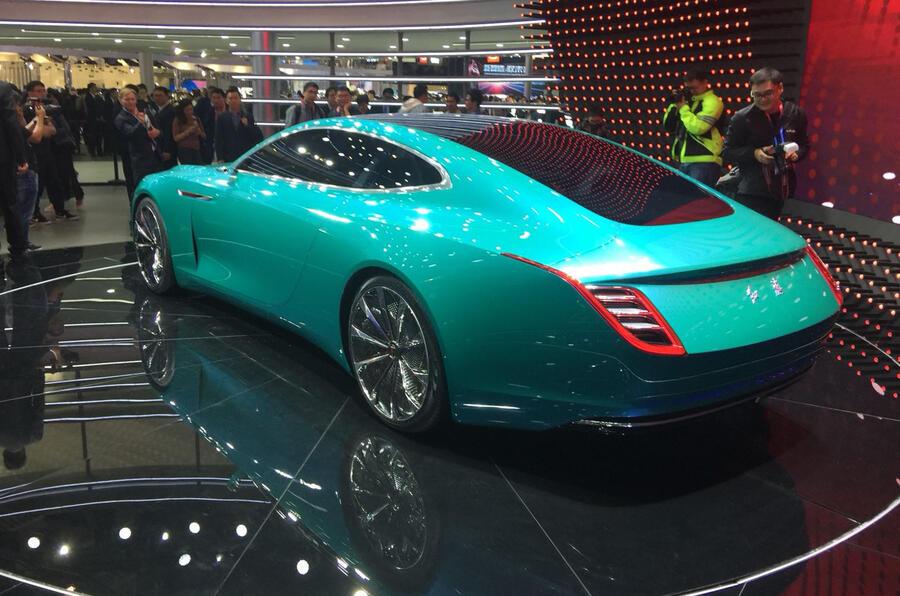 Elsewhere, Honda has unveiled the Everus EV concept, which previews a future China-only fully elective SUV. Yes, yet another fully electric SUV for the Chinese market. 
Why so many? It"s simple, as highlighted in our news analysis piece on Volkswagen"s Chinese strategy in the last issue of Autocar (April 18 - you can buy digital back issues here). First, Chinese buyers are flocking to SUVs: while saloons sales have remained static since 2012, sales of SUVs have increased by 10 million, and now make up half the Chinese car market.
The electric bit is all due to Chinese government tough emissions quotas, which are basically forcing firms to invest in zero emission vehicles to avoid hefty financial penalties.
Thinking of the print version of Autocar, don"t forget there"s a new issue out today. And it"s really very good, even if we do say so ourselves. There"s a huge scoop on a new Jaguar XK, a mega hot hatch duel between the Seat Leon Cupra R and Honda Civic Type R, a first drive of the new Lamborghini Urus SUV and lots more. Obviously you"re glued to whatever screen you"re reading this on right now, but when you need a break we recommend a trip to your nearest magazine retailer. 
1025 BST / 1725 CST: Volkswagen, Audi, Porsche, Skoda, Bentley... there are plenty of brands in the Volkswagen Group already (we haven"t even got to Scania, Ducati or Lamborghini yet), and now there"s another one. Sort of.
SOL is a new electric vehicle sub-brand from Jianghuai Volkswagen Automotive, a recently launched joint venture the firm has in China (similar to the existing SAIC-Volkswagen and FAW-Volkswagen). SOL"s first model, the E20X, has been shown in Beijing. It"s new, but we can definitely spot some inspiration from another VW Group brand, Seat (or is that Seat"s sub-brand Cupra?) in there. Given sol is Spanish for sun, that could explain where the name came from...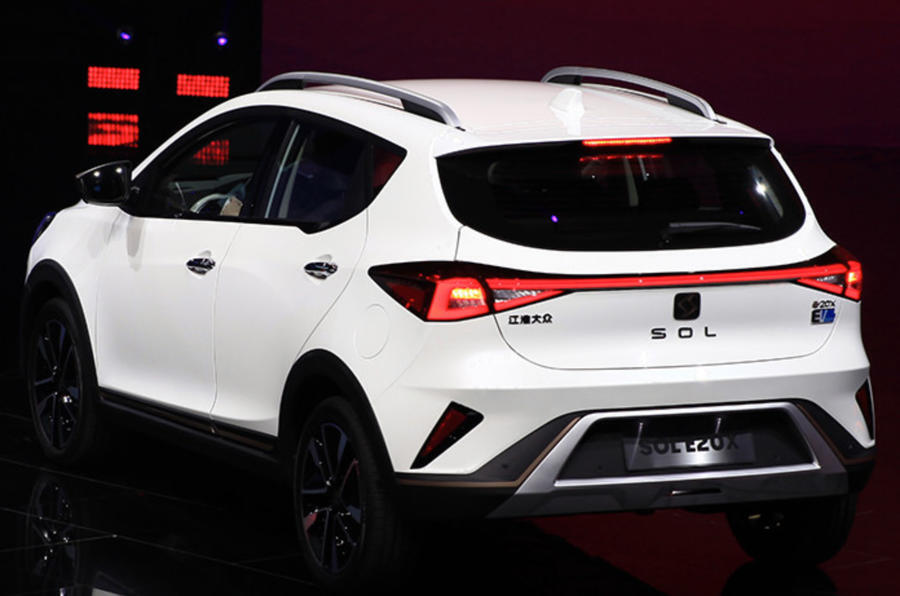 Mind you, worth noting that brand names often mean different things to different people. When senior staff writer Sam Sheehan heard the SOL name, his instant reaction was to worry it might be confused with the similarly named Mexican beer brand (which definitely is named after the Spanish word for sun). 
It shows the strange challenges of naming a new car brand, a challenge also faced by Chinese-owned start-up Byton recently. You can read here how that firm came up with that name (which, it has since been pointed out, people have been confusing with Enid Blyton...). 
Perhaps the challenges of finding new names that won"t confuse people is why Volkswagen and Ford keep returning to old nameplates...
1010 BST / 1710 CST: "Now this is tidy: the Dongfeng Pi, a sports car concept," says Tish. "Sleek, nicely styled and modern, it's the type of car to put a maker on the map. Will Dongfeng be the first Chinese car maker to build a credible sports car?"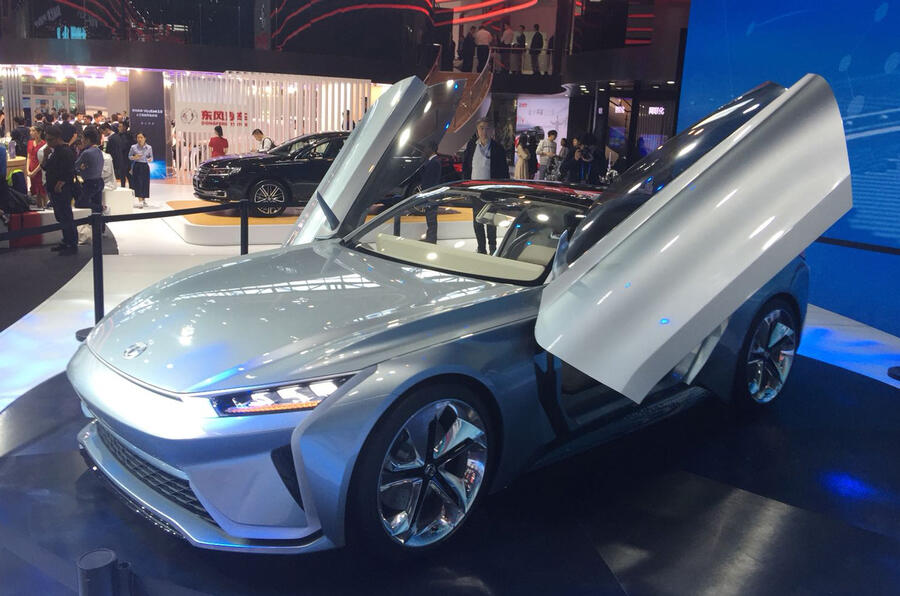 Ford seemingly doesn"t turn up to a motor show these days without a life-size Lego racing driver. Normally it"s sporting the race suits of the Ford GT World Endurance Championship team, but for Beijing the Lego figure is celebrating the firm"s Focus-based Chinese Touring Car Championship challenger.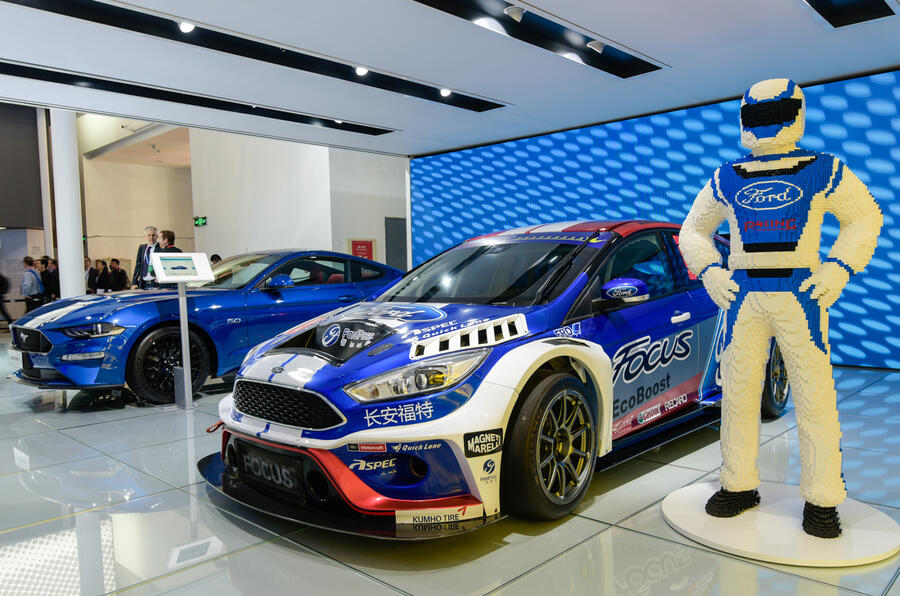 As we"re sure you"re aware, the CTCC season begins at the Shanghai International Circuit on May 6. The big question: can BAIC Shenbao Racing"s David Zhu defend his title? 
0950 BST / 1650 CST: Zotye is best known for its SR9, a Porsche Macan clone, and the firm is at it again with its i-across concept revealed today in Beijing. It's it quite as brazen as its previous effort, yet Porsche templates clearly haven't been fully erased from the Zotye designers' Etch A Sketches.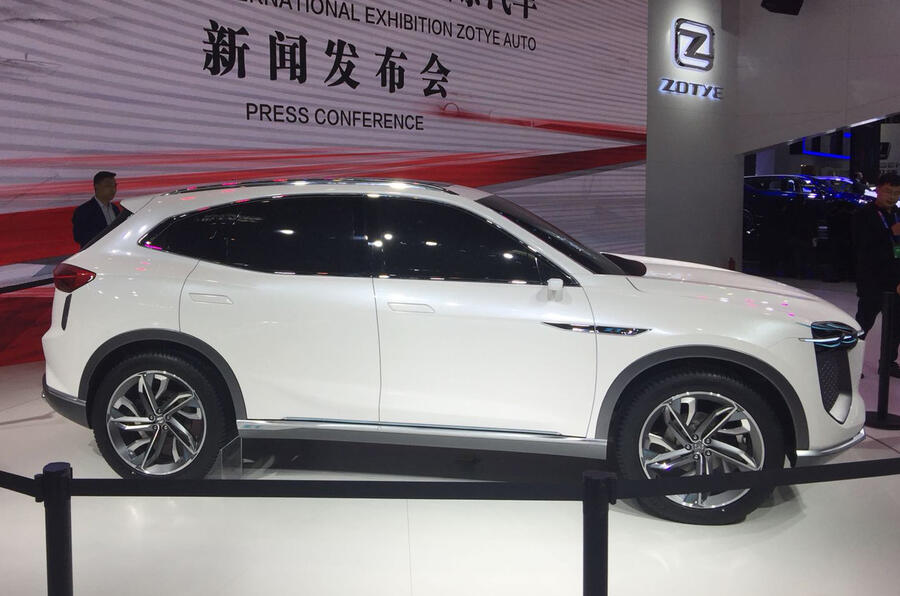 0930 BST / 1630 CST: The BMW Concept iX3 is the first BMW electric car not to be a dedicated model (it will be based on the X3), yet it still goes into the i sub-brand to join the i3 and i8. Tisshaw says: "It's no Jaguar I-Pace in its movement of the goalposts, yet is on trend and has a fine donor car underneath it."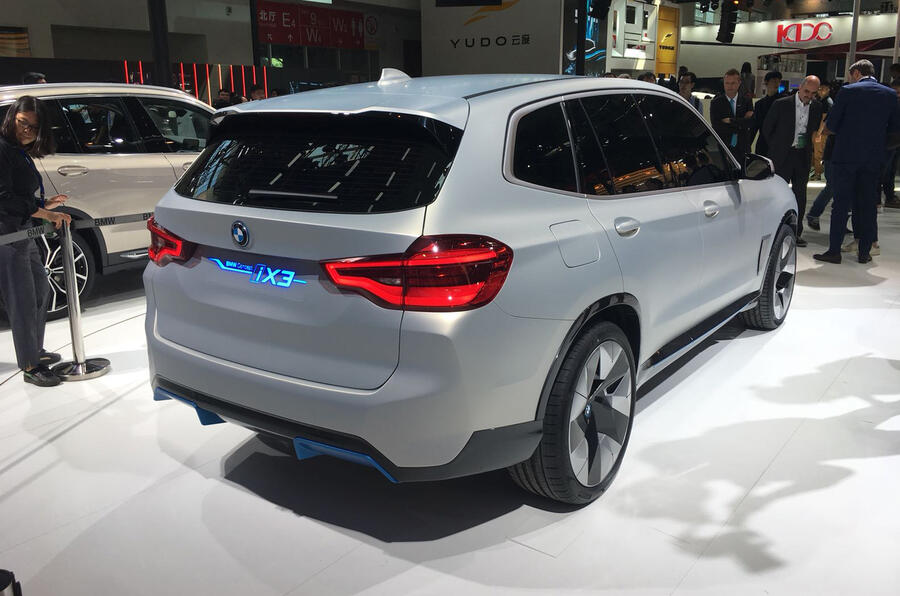 Qoros launched with great fanfare and export hopes a few years ago but it hit trouble and has not yet made inroads beyond China. However, ambition remains high, and it has today shown a gullwinged sports coupe concept that's electric powered and capable of inductive charging. "Front grille aside, it's a handsome thing," reckons Tisshaw.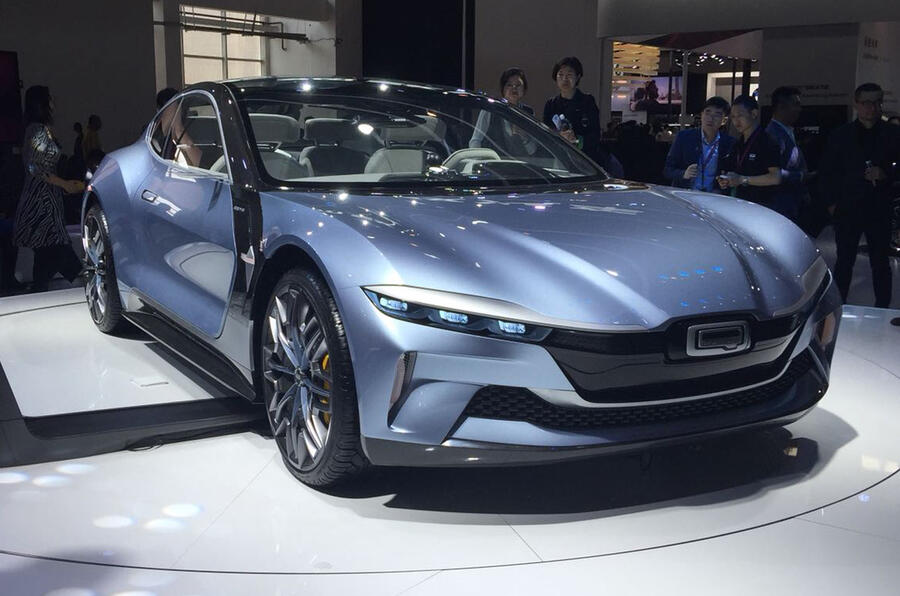 0915 BST / 1615 CST: The VW Arteon has a new name for China. Or rather an old one. It's the VW CC, the very name VW said the Arteon was not a replacement for when it came out, because the Arteon was much more premium than that. Go figure.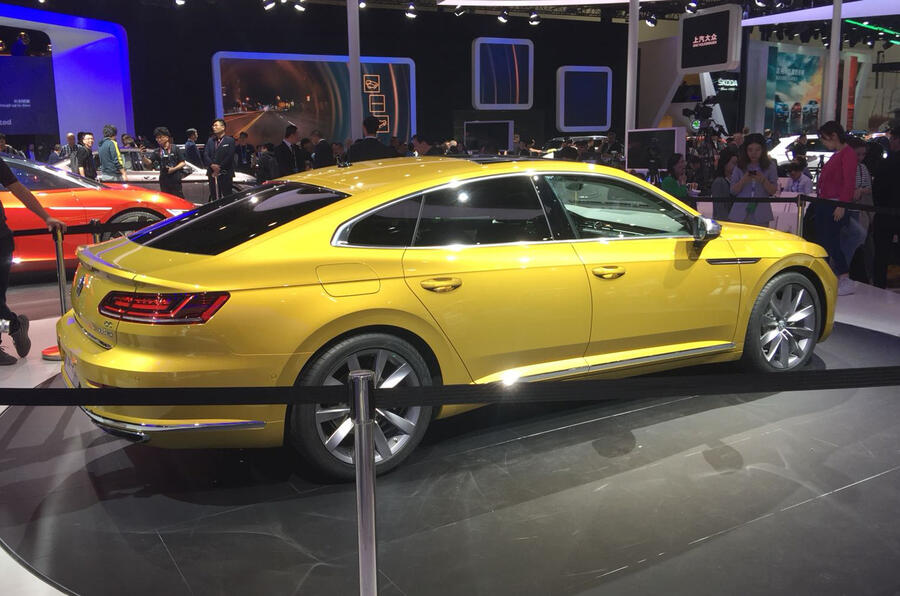 So for those keeping score, there"s a new Volkswagen CC that"s actually an Arteon, and a new Escort that"s developed from an old Focus, which will be sold alongside two different types of Focus. What is it with China and confusingly replacing car names with the name of the car that replaced them? 
And speaking of old names that keep being revived, MG has shown a new X-Motion concept in Beijing. It will eventually spawn a production version, and features details taken from the 2017 E-Motion electric sports car concept.
0855 BST / 1555 CST: Skoda's Kamiq is a new mid-size SUV that's not destined for sale in Europe. Tisshaw says: "That's no bad thing as it really is rather derivative. The Yeti [never sold in China, in part due to sensitivities over the name] is sorely missed."
The Hybrid Kinetic Group is a new start up that has turned to Pininfarina to create its first three models, a saloon, crossover and a dramatic gullwinged sports car. "Each is pleasingly styled, and the company's stand and branding has the air of one which means business," reckons Tisshaw.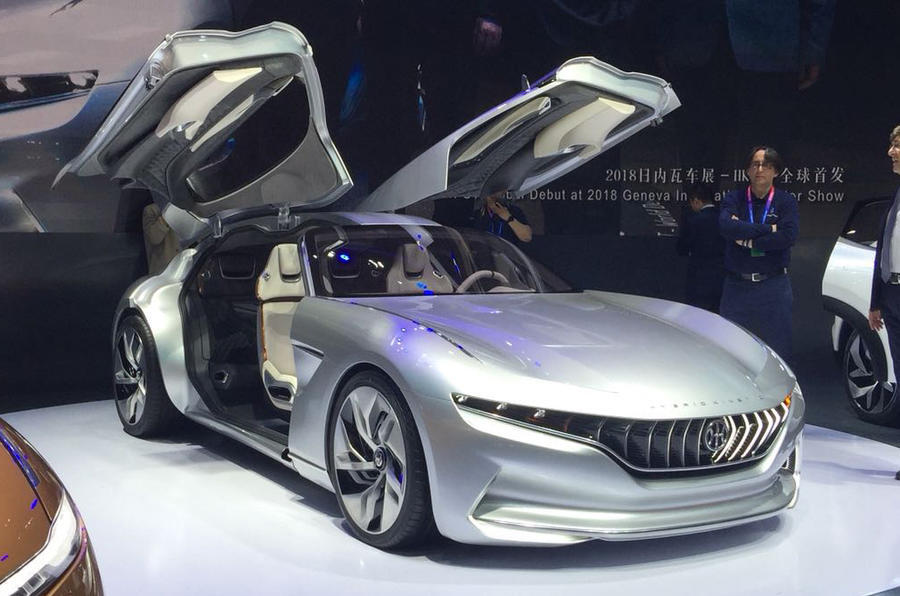 0835 BST / 1535 CST: "It"s hard to see among the crowds but the Q5 L, Audi's first long wheelbase SUV, looks only subtly different to the standard car," says Burgess. "Nor does rear room look notably bigger, but then the guy sitting in the rear could have been 7ft tall..."
Meanwhile, Burgess notes: "Tesla doesn't consider many shows worthy of investing in. For example, it rarely makes an appearance at Geneva, the biggest European show. Its presence here only highlights the importance of China in the global market, even to a California-based company."
Elesewhere in the show halls is Tisshaw. He says: "Car making rule number one: spell your name right. It's Besturn, not Bestern as emblazoned on Besturn's new concept. We've officially now seen it all."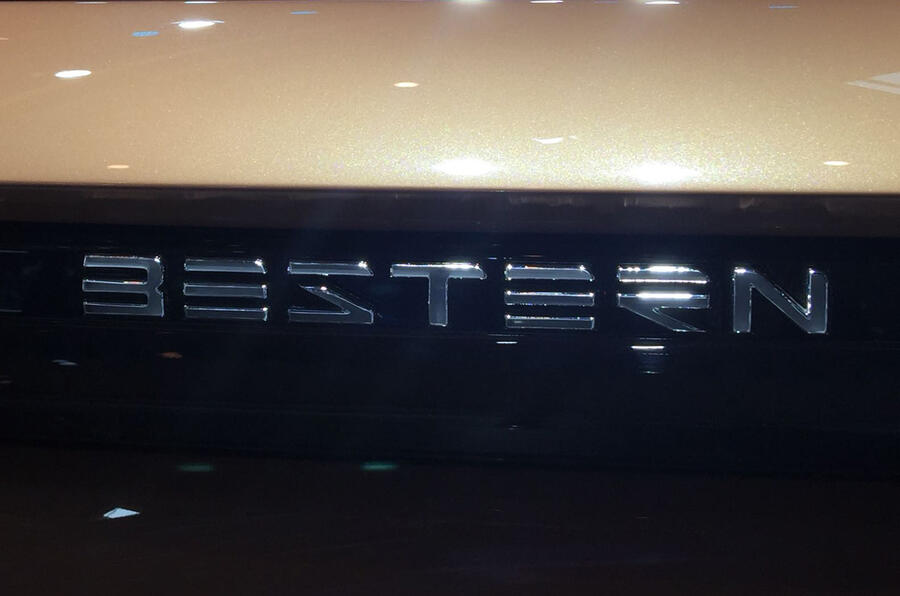 0825 BST / 1525 CST: A bit more on that Mercedes-Maybach Ultimate Luxury concept. Rachel says: "Maybach chief engineer Jurgen Weissinger has told us that the show concept could make production in the future if it receives positive public reaction. Given we struggled to get a single clean shot of the car, it seems to be going down well with the locals."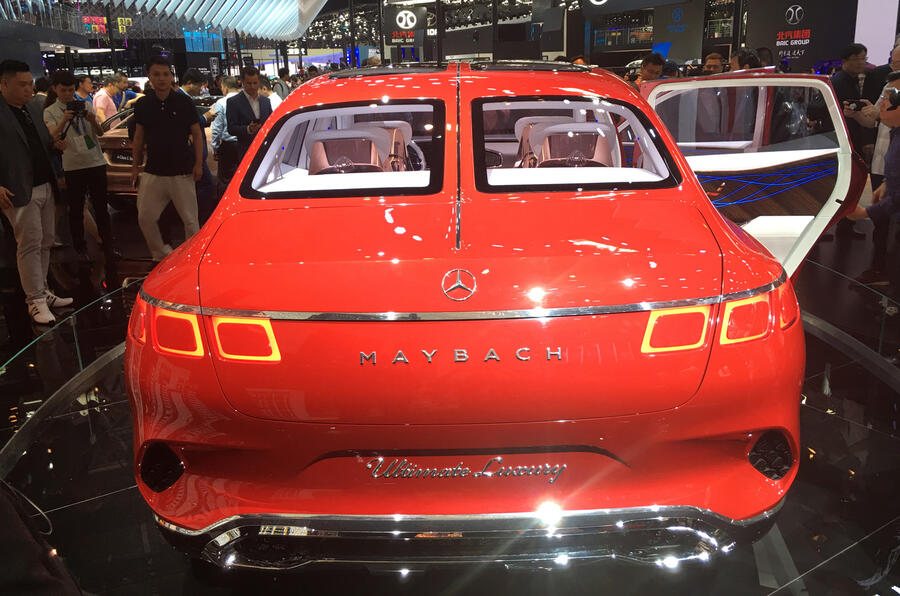 0810 BST / 1510 CST: Venucia is a joint venture involving Nissan and Dongfeng, the two having come together to create the mother couldn't love it: The X concept," says Tisshaw. "When Frankenstein met Range Rover..."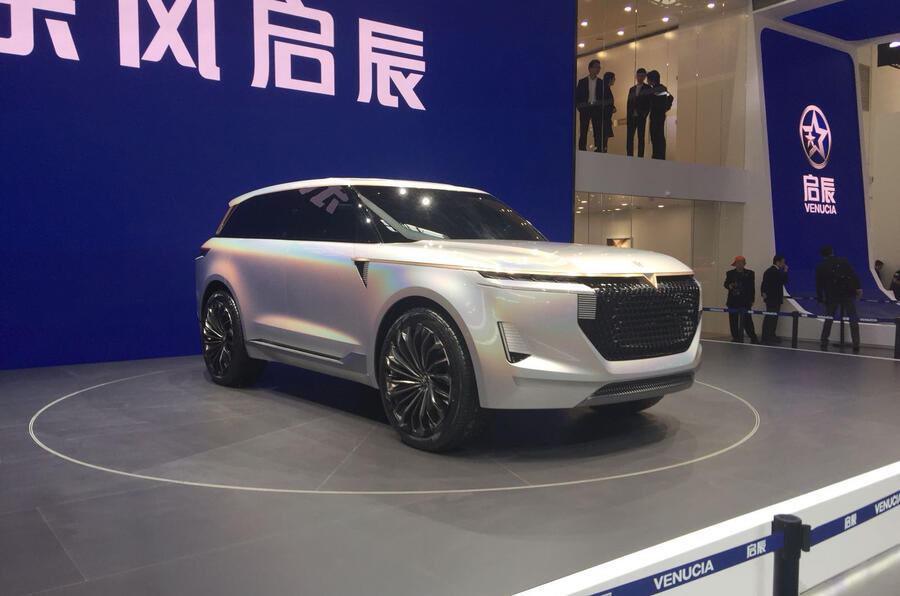 0740 BST / 1440 CST: A quick round-up of some of the stories coming out of Beijing so far...
Audi Q5L launches with 110mm more rear legroom
New Geely Concept Icon launched using Volxo CX40 platform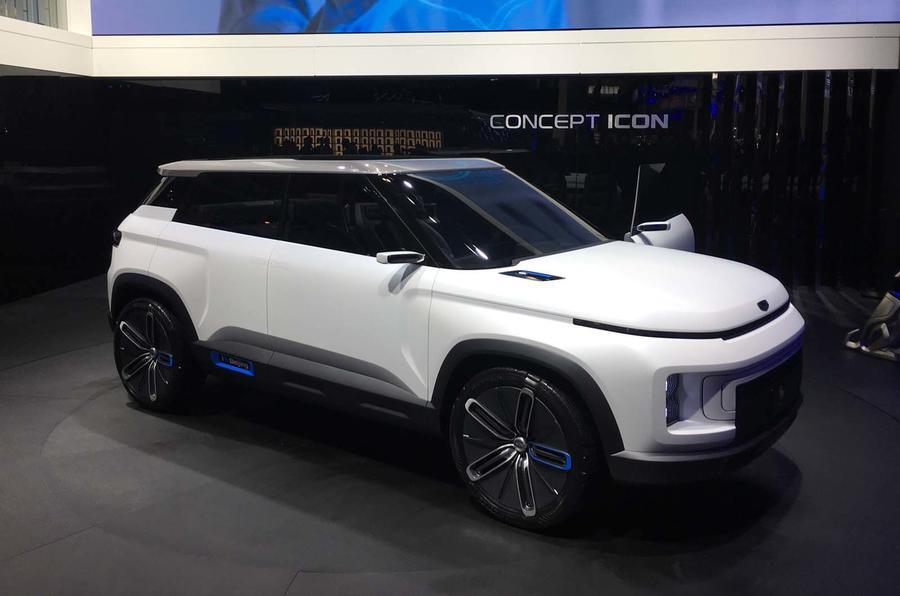 Jaguar XJ50 launched to celebrate 50 years of model
BMW Concept iX3 previews future Jaguar I-Pace rival
Read all our Beijing motor show stories here.
0725 BST / 1425 CST: "A new mid-sized Ford saloon stars here in Beijing," says Tisshaw. "No, not the new Focus (although that's here too) but the revised Escort, which is still sold in China."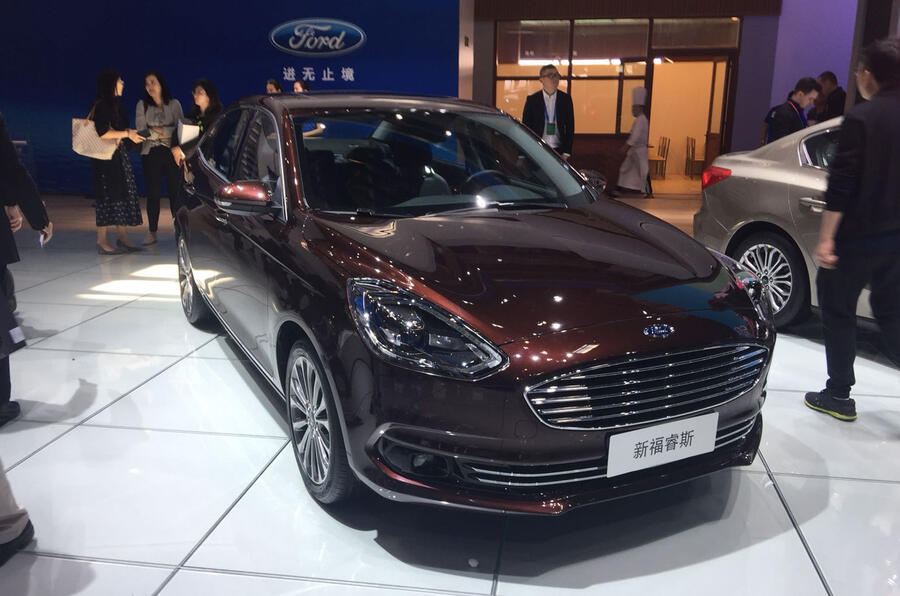 Confused? Well, it"s simple. The Focus replaced the Escort worldwide when it was launched in 1998. Then, in 2014, Ford reintroduced the Escort model name in China (where it hadn"t previously been sold), with what was effectively a rebadged second-generation Focus. That"s now been replaced by this new Escort. Meanwhile, Ford will continue to sell the third-generation Focus in China alongside the new fourth-generation car. 
Got all that? Good. There"ll be a test later.
0710 BST / 1410 CST: Tish notes: "New Volkswagen Group boss Herbert Diess is making his first public appearance at the show, which highlights the importance of the market to China. Here, VW has two joint venture brands [SAIC-Volkswagen and FAW-Volkswagen] and its role is as much one if mediation in keeping both happy and topped up with new models with the ever-popular badge."
Tish has also been taking a look at how the wider Chinese market works. "We tend to lump Chinese brands together as a whole, yet China is much like Europe in having multiple regions, each effectively a self-funded country of its own," he says. "This creates huge competition for regional government funds, and a huge variation of regional tastes and models offered. It's why VW can have two joint ventures with two different companies each making similar looking and feeling cars."
Meanwhile, Tish has been admiring the new metal. "Big fan of that Mercedes A-Class saloon," he says. "It just feels 'right sized', as the likes of the C-Class get ever larger. While the SUV continues to dominate, do not rule out a return for the saloon."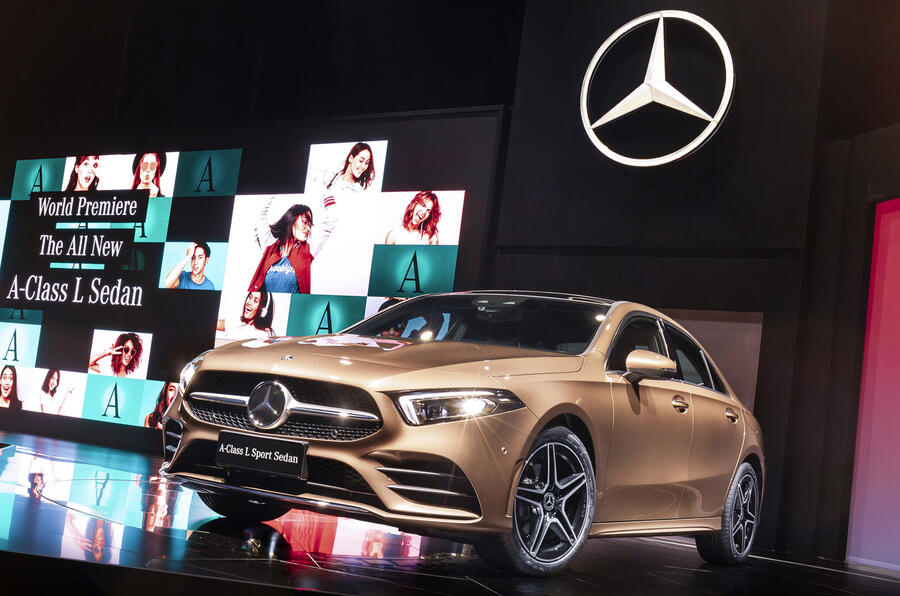 0635 BST / 1335 CST: "Shall we talk about that Maybach concept? Having winced at the pictures, I can assure you it is no better in the metal," says Tish. "Never has the phrase for 'regional tastes' been more literally realised."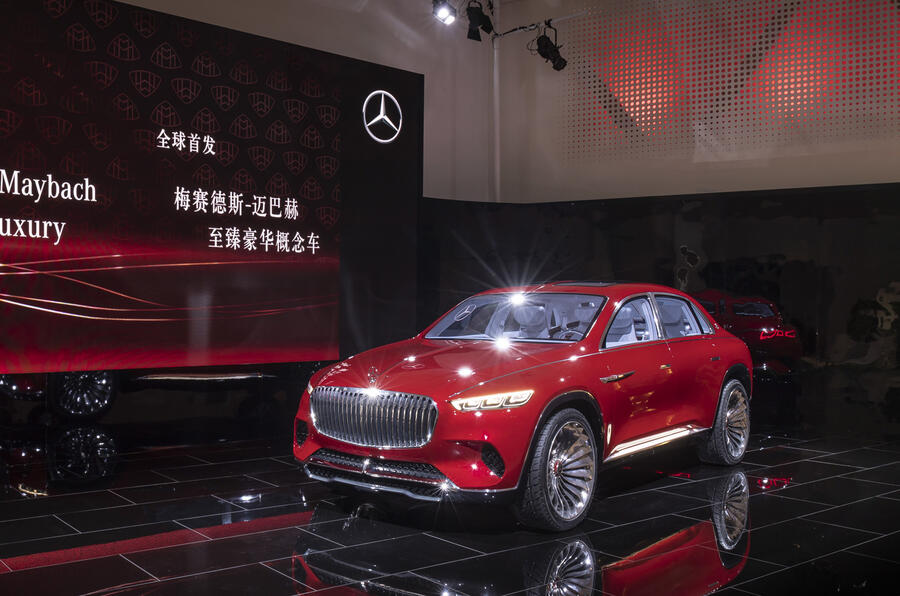 You can read Rachel"s explanation on those differing tastes here. The Mercedes-Maybach concept isn"t just causing a stir in Beijing: it"s been quite the talking point in Autocar Towers.
Still, James Attwood is prepared to defend at least one element of it: "The Mercedes-Maybach definitely isn"t my cup of tea, but I do admire any car that features a tea set on a hot plate. Beats fighting through the crowds at a service station every time you fancy a brew..."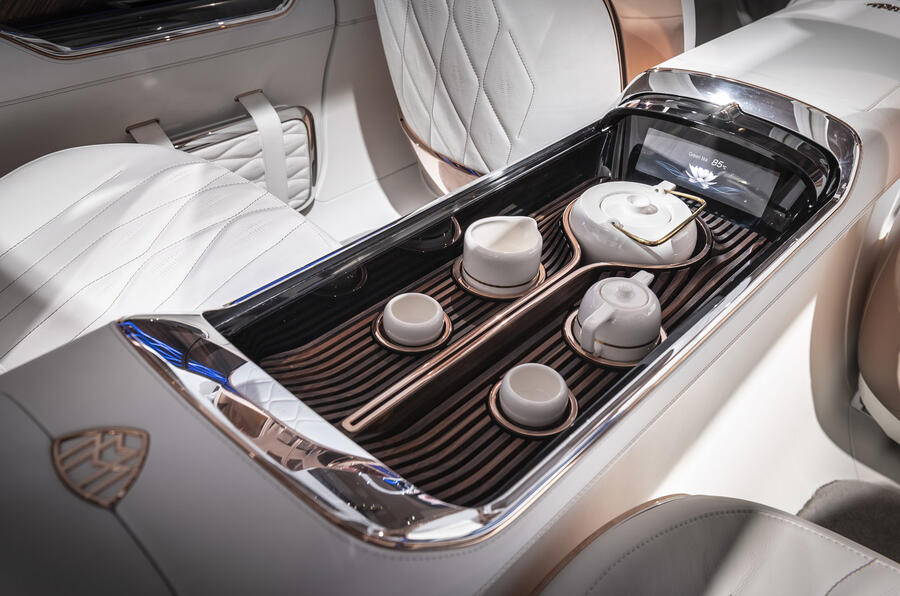 0620 BST / 1320 CST: Tish has been contemplating the state of the Chinese car industry. "China has only really had an automotive industry for about 40 years, yet it's already advanced to the point where electric cars dominate the agenda," he says. "Now the debate has turned to just how clean the electricity powering them is. It's a problem without a solution for now, yet don't bet against China's rapid decision making process for infrastructure solving it soon."
Inside: why demand from China is fuelling the growth of electric car sales
He"s also been contemplating the state of the show halls, adding "Chinese motor shows used to allow the public blog in on media days, not anymore. Yet still the crowds were 10 deep to get in to the show this morning, showing how quickly the size of the automotive media has grown to the report on the world's largest car industry."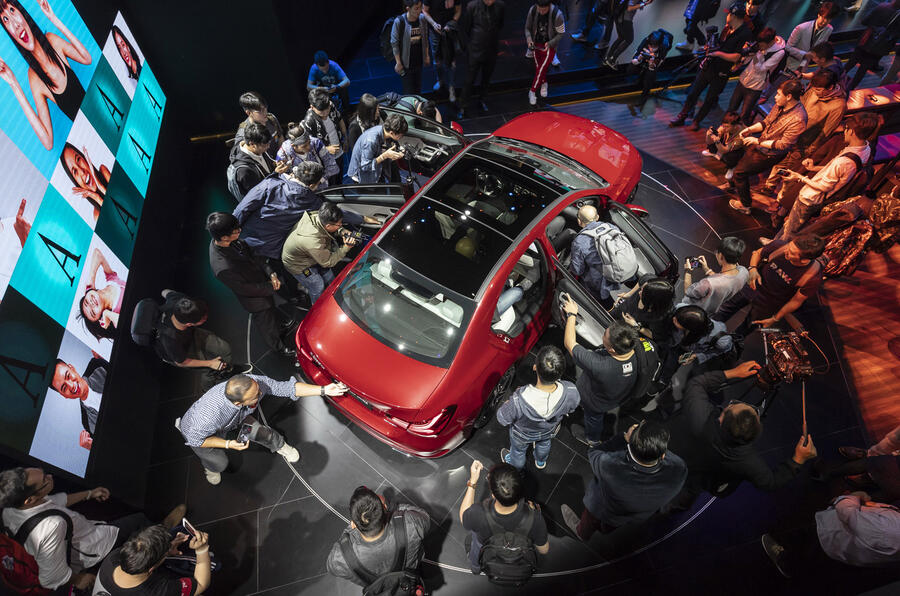 0545 BST / 1245 CST: A few more Lynk&Co notes from Rachel. "Volvo boss Hakan Samuelsson is supporting Volvo's sibling brand Lynk & Co's, attending its press conference at the show. The two firms will be working closely together: Lynk & Co's European cars will be built at Volvo's Ghent plant in Belgium."
That said, Rachel has found the Lynk&Co press conference interesting in places. She adds: "I'm at an unexpected fashion show - thanks to a collaboration between Lynk & Co and a Chinese fashion brand. It's all part of Lynk's desire to be a 'lifestyle brand' rather than a car brand."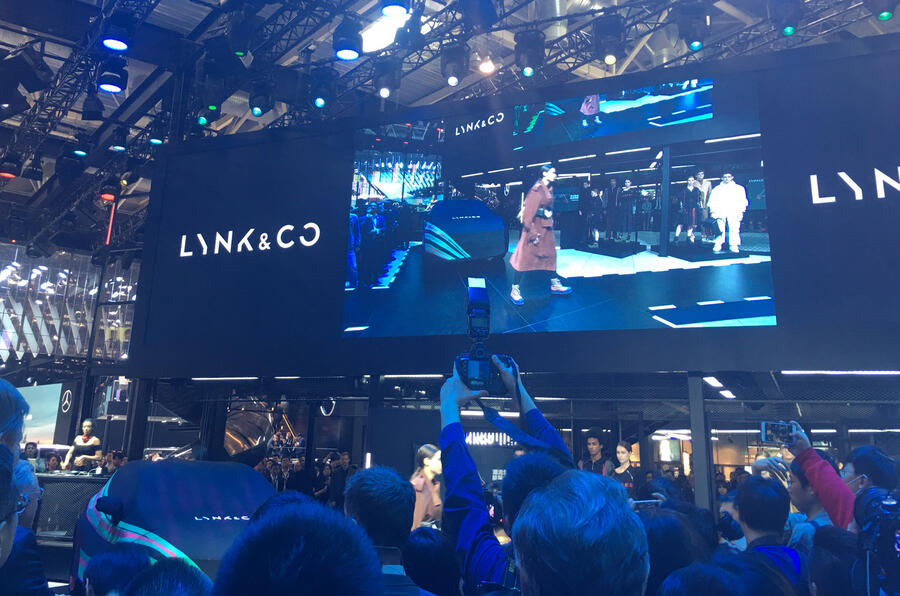 0530 BST / 1220 CST: We mentioned Rachel had been visiting the Lynk&Co stand, and the firm has confirmed that it will only sell hybrid and full electric models in Europe. That"s not entirely unexpected, especially given the firm"s close links with Volvo, but company chiefs had refused to give specifics until today. Alain Visser, Lynk&Co"s boss, said: "Our European strategy has always been based on new technology powertrain, and the announcements here in Beijing today confirm that vision."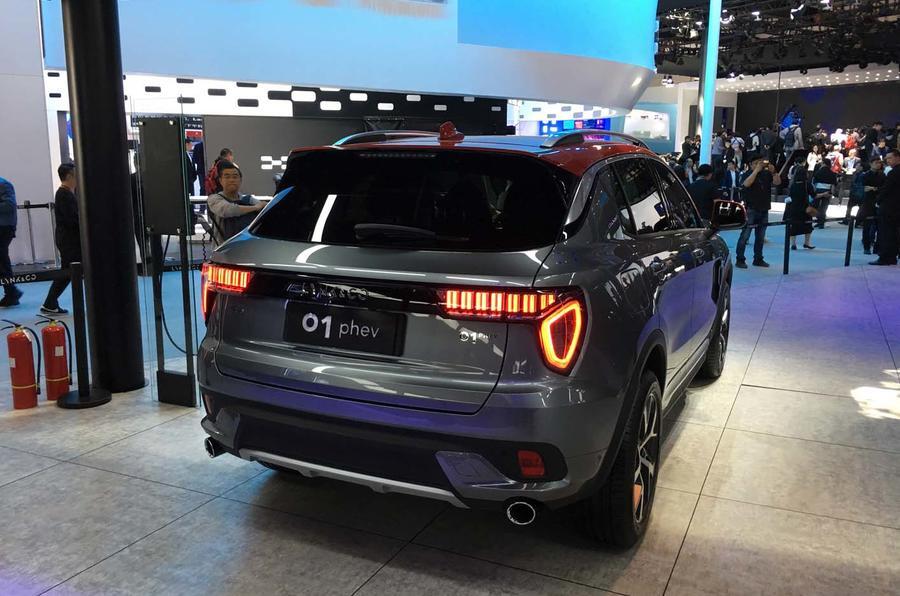 The firm has so far revealed three cars. It initially unveiled the 01 SUV (above) and the 03 saloon, but waited until an event in Europe last month to unveil its third car, the 02. James Attwood, who was at that launch, noted: "Given the company"s numbering strategy the 02 was quite literally, the missing Lynk." He then apologised profusely while the rest of the office team shook their heads.
0455 BST / 1155 CST: Nissan has been one of the leaders in full electric vehicles with the Leaf, and it has revealed the Chinese-market Sylphy Zero Emission EV in Beijing. While based on the Leaf, it has a longer wheelbase to appeal to Chinese buyers, and a liftback in place of the hatchback.
Rachel says: "Never has a car looked more designed for China from Nissan than this. While mainstream saloons are struggling in Europe, here saloons are the ultimate sign of success."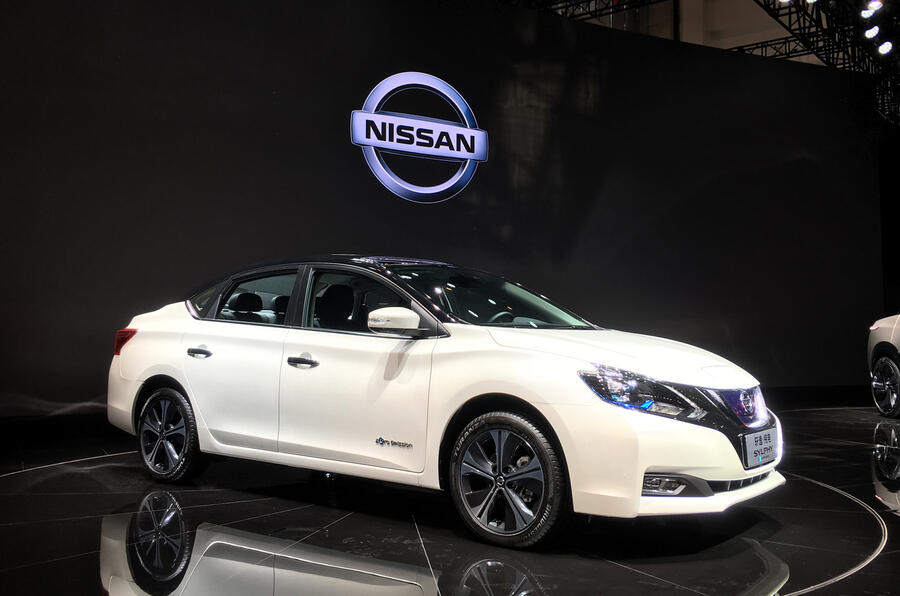 Incidentally James Attwood, who is pulling together the live blog coverage in Autocar Towers, has created a text file with the phrase "it has a longer wheelbase to appeal to Chinese buyers" in, on the grounds copying and pasting it in when needed is going to be quicker than typing it out, given how often it"s likely to be used...
We mentioned Tish"s traffic-delayed arrival at the show earlier, and worth noting that Rachel had a similar experience: "It took two hours to get to the show this morning - the same trip yesterday took 40 mins. Testament to not only the chaos that is Beijing traffic and the importance of the show. There were many, many people walking around early in the day, a stark difference to European and US shows which typically come to life late morning."
0435 BST / 1135 CST: Tish says: Speak to Chinese media and they're all keen to know which of their brands have the greatest export appeal, and have made the best impression overseas. Lynk&Co, Geely"s new brand developed with Volvo that is focusing on younger urban SUV buyers, seems the consensus, which tallies with the favourable reaction it has received back home."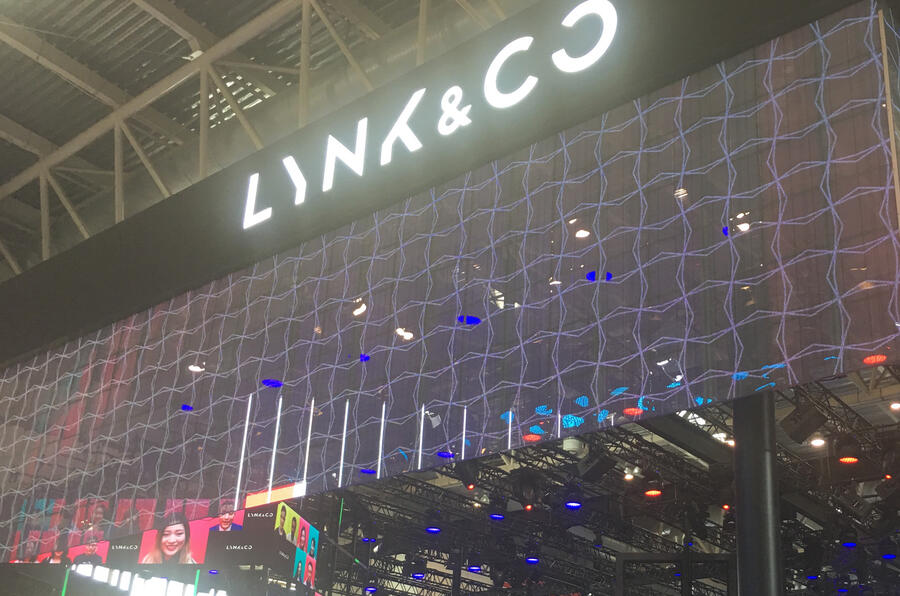 Rachel has been over at the Lynk&Co stand getting all the news from the firm, and we"ll have more on them here shortly. For now, if you want to know more about how the brand was created, you can read our interview with design chief Andreas Nilsson here.
While Lynk&Co shows the bright side of the Chinese industry, the country"s car firms are still known for producing imitation models. Tish adds: "Copycat cars are sneered at even by the Chinese. There's an acceptance the market has long moved past that stage, and the cars do a disservice to the excellent work the rest of the industry is doing to modernise. It's all a bit 2011 and unnecessary now, is the consensus."
In pictures: a history of Chinese copycat cats
The Bejing show halls aren"t entirely free of copycat cars, including the Beijing Auto BJ80 6x6, which draws heavily from the Mercedes-Benz G63 AMG 6x6. Here"s Tish"s expanded take on that car.
0410 BST / 1110 CST: Mark Tisshaw arrived in at the show a little later than planned. "Beijing is famous for its poor traffic, and having taken about 90 minutes to drive a few kilometres I can vouch for it," he said. Yet littered everywhere by the side of the road were abandoned bicycles from bicycle sharing schemes, dumped in ditches, woods, pavements and by the side of the road. It's an ugly sight.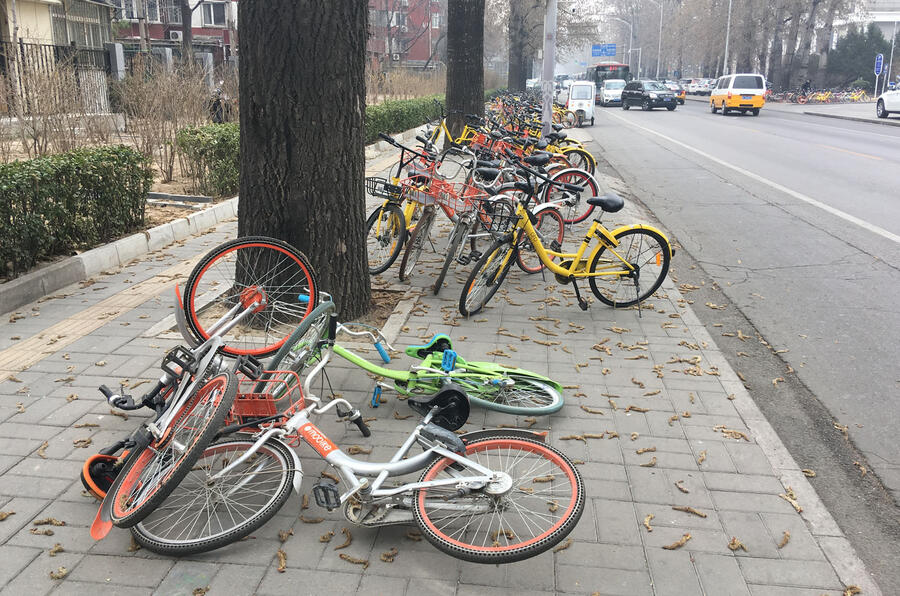 bicycles
Still, it"s not all bad news in Beijing, Tish reports: "It's a roasting hot day, so thankfully the smog that typically dominates the air here is missing. In the past at the show, smog has even ended up in the motor show halls."
In non-bike and weather-releated news, Jaguar has a major presence in China, and has revealed a special XJ50, which celebrates 50 years of its XJ saloon model. It will be sold in both short and long wheelbase form, and is powered by a 296bhp 3.0-litre diesel engine. 
0400 BST / 1100 CST: As is increasingly the case with motor shows, some of the big reveals in Beijing happened the day before the doors officially opened. 
Mercedes-Benz grabbed much of the early attention with the reveal of tha A-Class Saloon - a machine that will be coming to Europe - and by showcasing the Mercedes-Maybach Vision Ultimate concept, an ultra-premium SUV that has caused quite the reaction from readers in the comments section of our story.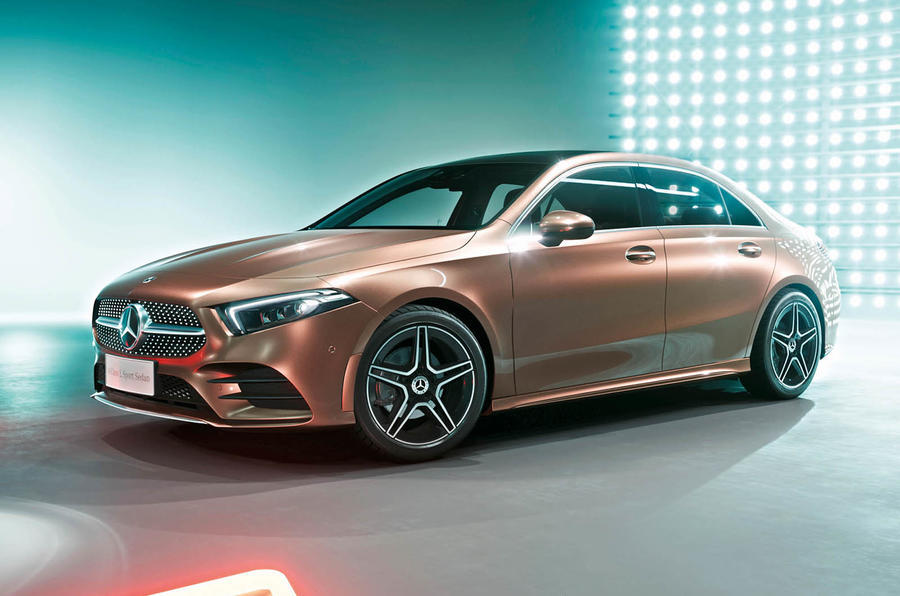 Not to be outdone, BMW has pulled the covers off the Concept iX3, an electric SUV that closely previews a future Jaguar I-Pace-rivalling production model.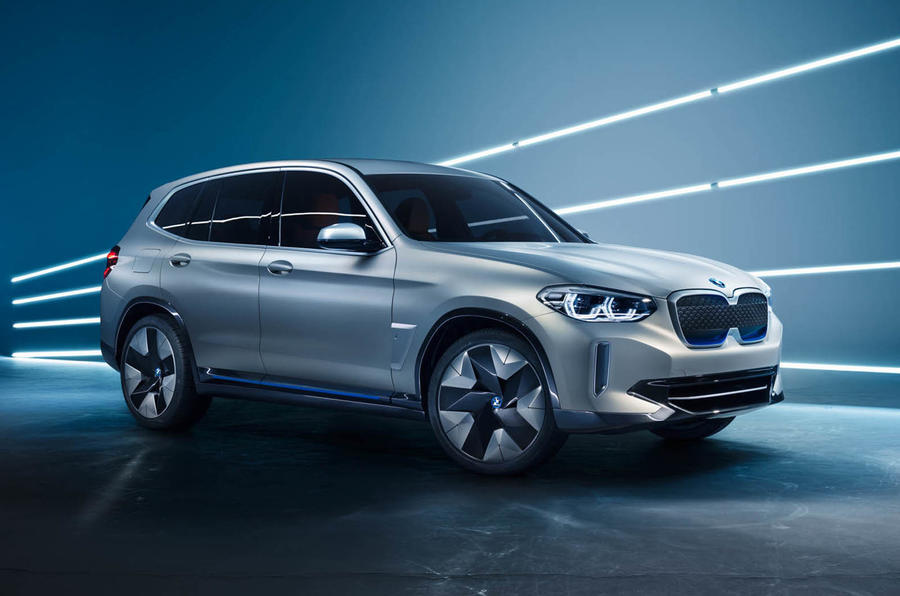 Chinese buyers might go crazy for SUVs, but they still love saloons - and Volkswagen has shown the latest version of its China-only Lavida. Volkswagen sold 450,000 Lavida last year: not bad for a car you can only buy in one country...
Beijing motor show: the launches
BMW iX3
BMW has released two preview images of the iX3, which is due on sale next year following a Beijing motor show reveal, although it"s already been caught testing by our spy photographers. The car will be BMW"s first all-electric SUV and a rival to the Jaguar I-Pace.
BMW M2 Competition
This car enjoyed an early limelight thanks to a sales brochure leak, but it"s now been revealed officially ahead of a public debut in Beijing. The M2 Competition uses the S55 twin-turbocharged engine of the M3 and produces 405bhp – a 40bhp boost on the previous model.
Hybrid Kinetic Group K350 and H500
Hybrid Kinetic Group will reveal two more Pininfarina-designed electric models this month that use micro-turbine range-extender technology. The K350 SUV and H500 saloon (above) will follow the Hong Kong company"s HK GT coupé, H600 saloon and K550 and K750 SUVs.
Lexus ES
The new ES has been revealed ahead of its debut at the Beijing motor show. It"s due to arrive in Britain as a replacement for the GS.
Mercedes-Benz A-Class Saloon
Mercedes"s upcoming rival to the Audi A3 Saloon has been leaked onto the internet via a single image, but it"s not due for official reveal until the Beijing show kicks off.
Mercedes-Maybach GLS
Mercedes-Maybach has previewed a new concept that it will reveal in Beijing that is believed to be a precursor to the GLS SUV. The concept will be followed by a production model later this year.
MG X-Motion
Chinese-owned MG will reveal a new SUV concept to inspire a future production model set to hit roads in 2019. It's not confirmed for Britain, but a UK spokesman told Autocar that the model could be introduced here in the future.
Skoda Kamiq
Skoda will reveal a China-only SUV in Beijing. The model, called the Kamiq, will sit below the Karoq and join a line-up tasked with doubling sales in the Chinese market to 600,000 units by 2020.
XEV LSEV
The world's first 3D-printed car will be shown in public at the Beijing show before it makes production in 2019. Only a few components, such as the chassis, glass windscreen and tyres, are made using conventional methods. The rest are printed, drastically reducing waste and enhancing efficiency.
More content:
Good, bad and ugly: car firm collaborations
Rolls-Royce Phantom review
Tweet Widget
Facebook Like
Google Plus One
Nguồn: www.autocar.co.uk